St Catherine's care is genuine, thoughtful and well-rounded - Bethen's experience
Published: 22 Sep 2022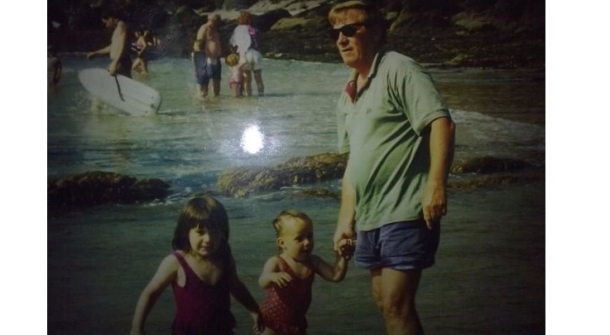 Next month, Bethen Evans is running the iconic London Marathon followed by the Brighton Marathon in April 2023. She's raising money for St Catherine's Hospice after they cared for her Grandad Colin. Here, she shares more about the difference the hospice made to her family.
"When I was little, my Grandma volunteered in the coffee shop at St Catherine's so we always knew about the hospice and thought fondly of it. I remember watching my Dad run two London Marathons for the hospice too when I was 12 and 13.
In 2013, our family experienced St Catherine's care when my Grandad Colin spent time there
Grandad had Progressive Supranuclear Palsy (PSP), a rare neurological condition that can cause problems with balance, movement, vision, speech and swallowing.
The hospice was so different to what I expected
It was calm and welcoming and quite a happy, jolly place. It was a relief that Grandad was being cared for so well too. Our family were always confident he was comfortable and looked after.
Grandad went to a care home after the hospice and died a month afterwards. My family kept saying he was holding on waiting for my baby to be born. She was 10 days old when he died, but he got to meet her once.
All our memories of the hospice are special
Hospice staff treated our family like we were old family friends, and nothing was ever too much trouble. Grandad was in the hospice over his birthday and the wonderful staff did all they could to make it a celebration for us. They arranged a birthday cake and Prosecco, which was a nice surprise. While Grandad might not have been able to enjoy the cake and bubbles as he was nil by mouth, we all did! I remember the drinks trolley coming round and listening to the piano being played in the hospice lounge too.
Grandad also spent Christmas in the hospice. We all went to see him on Boxing Day where again we were given chance to celebrate.
As a family we've always supported St Catherine's
And this year I'm running the London Marathon in October and then the Brighton Marathon in April 2023 to support the hospice.
I've done a Run Reigate 5k then 10k, but now feels like the right time to do a marathon. It's time to stop watching and start doing! As well as doing these marathons in Grandad's memory, I'm also doing it for my four kids, so they get the marathon experience.
Having done a marathon twice before, Dad's given me some training tips and I'm now doing training runs along the same route he did. If Grandad knew I was taking on these marathons he probably would have laughed – he wouldn't have believed it!
St Catherine's care is genuine, thoughtful and well-rounded
It's a complete package and we'll never forget the efforts the hospice put into my wonderful Grandad's and our family's care.
It's important we all consider supporting St Catherine's because none of us know when we might need them
They're a local charity and the care they provide, especially the community care that often goes under the radar, is so expensive, but it makes an incredible difference to families like mine."
If you'd like to take a on a marathon or another challenge to support St Catherine's Hospice, please get in touch by emailing fundraising@stch.org.uk or calling 01293 447361.