Updates and opportunities from the University of Brighton - October 2022
Published: 02 Nov 2022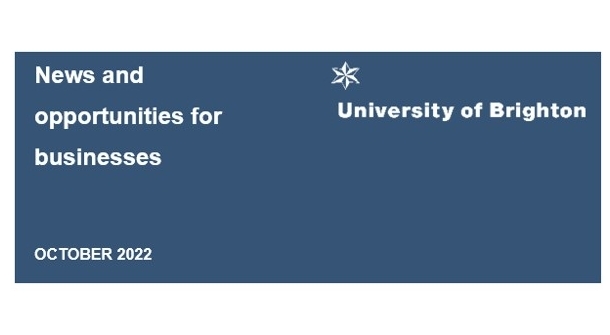 Here are some of this month's highlights for our regional businesses and beyond - including some of the ways we can provide skills and innovation support. 
If you would like to know about how the University of Brighton could work with your business - do get in touch at enterprise@brighton.ac.uk
Brighton retains top tier positions for Partnerships
The latest Knowledge Exchange Framework (KEF) results have placed the University of Brighton in the top tiers for delivering diverse economic and social benefits with partners, demonstrating the University's sector-leading commitment to nurturing effective relationships and transformative collaborations
Brighton student makes her mark in TV craft series
University of Brighton student Chloe Hook showcases her skills as the youngest contestant in the primetime TV Handmade series - C4's competition to find Britain's best woodworker
Bringing frogs back from the brink of extinction
A new documentary reveals the role played by Dr Inga Zeisset, who has been working with the Amphibian Reptile Conservation Trust to reintroduce Northern Pool Frogs to the UK.
Build resilience with RISE Horizons
Access the latest thinking and insights from university and industry experts via the RISE Horizons programme.
Completely FREE for small to medium-sized businesses - registration closes soon.
Helping business leaders to grow
See what the 90% Government funded course could do for your business. There are courses coming up in Worthing, Hastings and Brighton.
Start your MBA journey with an apprenticeship
Our Senior Leader Degree Apprenticeship can put you on a pathway to career progression, whatever industry you're in.
Upcoming events and programmes
Horizons: Innovation in Adult Health and Social Care programme
From 1 September 2022 to 31 January 2023, 9:30am – 4:30pm, Online and in person
Horizons: Innovation in Manufacturing and Supply Chains
From 1 September 2022 to 31 January 2023,  9:30am – 4:30pm, Online and in person
Horizons: Innovation in Tourism and Hospitality Programme
From 31 October 2022 to 31 January 2023 9:30am – 4:30pm, Online and in person
Pioneers: create positive impact through industry partnerships
From 1 November 2022 to 8 November 2022, 10am – 5pm, Online and in person
Are we facing another mass extinction event?
2 November 2022, 6 – 7:30pm at The Bevy Pub, Brighton
4 November 2022, 9:30 – 11:30am, Online (Zoom)
Sales development for start ups
8 November 2022, 10am–12pm, Online (Zoom)

How to write a winning grant application
15 November 2022, 10am – 12pm, Online (Zoom)
RISE and Shine Innovation Club
16 November 2022, 9:30am - 12:30pm at Tottington Manor Hotel, Henfield
Strategic selling for major accounts
16 November 2022, 10am – 12pm, Online
Free Innovation Clinics – November
16 November 2022, 9:30am - 4:30pm at Business and IP Centre, Crawley Library, Crawley
Business Model Canvas workshop
17 November 2022, 9:30am – 12pm, Online (Zoom)
Net Zero 360 X Venturefest South
17 November 2022, 1:30pm - 3pm at The Ageas Bowl,  Southampton
Become your own market research expert
22 November 2022, 9:30am – 12pm, Online (Zoom)
6 December 2022, 10am – 12pm), Online (Zoom)
Creative Pause! & lived menopause experiences
7 December 2022, 6pm – 7:30pm at The Bevy Pub, Brighton