Your July business and tax updates - Carpenter Box
Published: 02 Aug 2022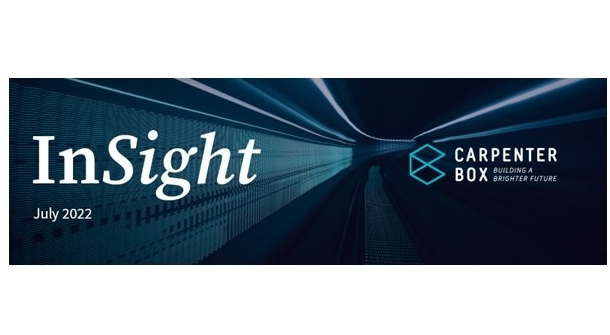 Welcome to our July newsletter!
I hope everyone managed to keep as cool as possible during the unprecedented heatwave that we experienced last week.
What a performance from the Lionesses last night in the Euros semi-final! That cheeky backheel! We all wish them the very best of luck in the final on Sunday.
The last month included English wine week, which gave us the opportunity to celebrate all the fantastic wines on offer from vineyards and wineries across the region, we are proud to note many of these wines being produced by clients of ours all around you, with many of these vineyards offering wine tasting events and tours all year round.
We were proud to attend the South East Property Awards on the evening of the 14th, where we were delighted to present the award in the category of: "Commercial Development of the Year' to Here+Now Developments and cheer on all the other winners, being recognised for their amazing achievements in the South East property industry.
Also featured in this month's edition is the latest Academies Annual Update, which is a virtual update on finance and governance. This update has information for academy trustees, accounting officers and CFOs. It also reveals how to get the best out of your auditor, technical updates and workshops on current challenges. Including managing inflation, staffing and VAT.
I hope you enjoy this month's newsletter.
Kind regards,
Alan
Alan Edwards
Managing Partner

Carpenter Box Growth Academy - Mastery and Marketing
Our new Growth Academy programme in partnership with Paul McCarthy of ActionCOACH Worthing is designed to help small business owners by teaching a practical, relevant, tailor-made business growth strategy, aimed at driving more profit into your business.
The first session was focused primarily around two big questions in business: where am I right now? And where do I need to get to?
Trainee Accountant jobs in West Sussex
Talk to us about a paid trainee accountant job where you learn and gain valuable experience in the financial services sector. Alongside on-the-job training, our trainees are provided with exclusive study and exam learning days.
They are supported with materials from a leading training provider, often under an apprenticeship. Additionally, with hard work and commitment, this results in a nationally recognised qualification.
Find out what a trainee position includes
South East Property Awards 2022
On the evening of the 14th July 2022, we had a fantastic evening, recognising the amazing achievements of those in the South East property industry.
I would like to extend my congratulations to everyone who won an award or were shortlisted to the finalist stage! Thank you as well to Insider Media for yet another brilliant awards evening!
Discover who the winners were here!
Academies Annual Update
This update is aimed at academy trustees, accounting officers and CFOs, this virtual update on finance and governance will include:
getting the best out of your auditor
technical updates
workshops on current challenges including managing inflation, staffing and VAT
Keynote speech on trust growth will be delivered by Mark Woods, CEO of Meridian Trust
Carpenter Box Financial Advisers news update
Read the July newsletter!
The second half of the year is upon us and, dare we say it, the nights are starting to draw in. But for now, many of our thoughts will be turning towards our summer holidays, and we'll be hoping we're not caught up in the ongoing problems at our airports.
If you're staying in the UK during July, there's also plenty to get excited about, from music events such as Wireless Festival and BST Hyde Park, to sporting spectacles like Wimbledon and, of course, the Commonwealth Games, which begin in Birmingham on July 28th.
July also sees a whole host of specialist events as diverse as National Picnic Month and World Emoji Day on July 18th, so there's no shortage of things to get involved with over the coming weeks.
But as ever, we're very conscious that times are tough for many people right now, as inflation soars higher and higher and the cost of our food and energy goes up.
As always, if you have any concerns or questions we're here and happy to help, so don't hesitate to get in touch.
Events:
Resources:
For a full listing of our resources and information sheets, visit our resources page on the Carpenter Box website. 
01 August 2022
Corporation tax payment due for year end 31 October 2021, for those companies not liable to pay their liability by instalments.
07 August 2022
Due date for June VAT returns unless exempted.
19 August 2022
If you pay by cheque through the post, pay PAYE, class 1 NICs, student loan deductions and deductions from payments to subcontractors for the month up to the 5th of this month.
Construction Industry Scheme: monthly return due for period up to 5th of previous month.
21 August 2022
Due date for payment of supplementary declarations for July 2022.
22 August 2022
If paying electronically, pay PAYE, class 1 NICs, student loan deductions and deductions from payments to subcontractors for the month up to the 5th of this month.
31 August 2022
Filing deadline for corporation tax return self-assessment form CT600 for period ended 31 August 2021 to be submitted to HMRC.
Deadline for filing your annual accounts is 9 months after your company's financial year ends.