100 volunteers needed for St Catherine's Midnight Walk 
Published: 27 Apr 2023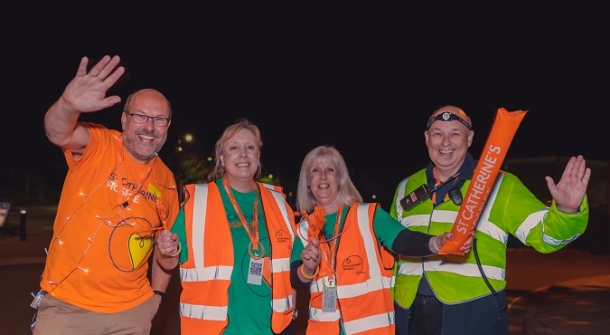 St Catherine's Hospice is looking for 100 night-owls to volunteer at its flagship Midnight Walk event, on Saturday 10 June in Horsham. 
The Crawley-based charity, which provides vital end of life care and support to people living in East Surrey and West Sussex, can only run its much-loved event with incredible volunteers working throughout the night. 
The Midnight Walk invites walkers to take to the streets of Horsham and challenge themselves to a sponsored 2, 7, 13, or 20-mile night-time walk. 
The main role for volunteers is as route guides – keeping walkers safe and encouraging them in their challenge. All volunteers are fully briefed two weeks before the event with detailed instructions on where they need to stand and where to direct the walkers. All volunteers work in pairs and are kitted out with a torch, a high vis jacket and plenty of snacks!  
Volunteers are needed between 7pm and 5am but any amount of time during these hours is appreciated – even a couple of hours can be a significant help. 
As well as route guides there are plenty of other volunteering roles available, including set-up at the Bridge Leisure Centre in Broadbridge Heath, registering walkers, handing out finisher medals and many more. 
Chris Jennings, from Horsham, will be volunteering for his 12th time at the Midnight Walk this year. Chris says: "I started volunteering because my wife Katy was helped by one of St Catherine's counsellors when she was diagnosed with breast cancer. The counsellor used to visit Katy at home every week. Katy found counselling a great help and we were all very grateful for the hospice's support. 
"Sadly, Katy passed away in 2008 at the age of 42, leaving myself and my son Adam who was only 14 at the time.  
"Volunteering at the Midnight Walk is my way of saying thanks and give back to St Catherine's. For the first few years Adam came along with me. Volunteering throughout the night was a great bonding experience for the two of us and we thoroughly enjoyed it.  
"Being a route guide can be very busy but there's a great vibe and everyone is happy to be there doing it, and lots of walkers are remembering relatives and friends on the night. It's a great evening and good fun directing and encouraging people, particularly towards the end of the race when competitors need some impetus to finish it.  
"Everyone taking part are doing it for a really good cause and although I did take up walking during the pandemic, I'd still rather volunteer on the night so that I can help and encourage others. 
"I'd encourage anyone to come along and volunteer at the event. It's not difficult or onerous – you just have to be awake through the night and be willing to help out. Even if you can only give up a couple of hours, it's good fun and it's a great way to give back and show your support for St Catherine's Hospice." 
St Catherine's cares for around 2,000 people every year living with a terminal illness, in its hospice in Crawley, in people's own homes or in care homes. Eight in ten people cared for by St Catherine's are supported in the comfort of their own home. 
If you or someone you know would like to volunteer at the Midnight Walk please email events@stch.org.uk or contact St Catherine's friendly team 01293 447357.