Confidence at the Prom online workshop Tue 20 June 2023
Published: 07 Jun 2023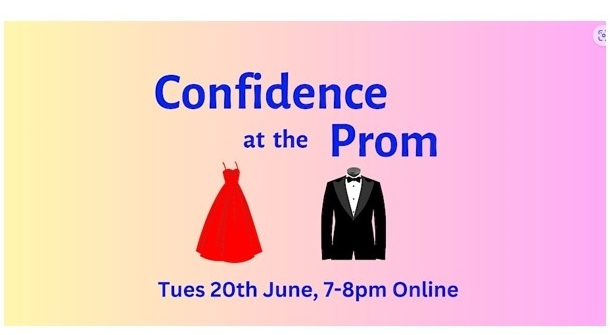 If you're anxious about your end of school Prom, this workshop is designed to help you feel confident, calm and empowered; and enjoy it!
Leaving school this year and not looking forward to the Prom as much as you'd like because you feel anxious about it? Would you love to look forward to it feeling happy and confident? This online workshop could be for you!
We'll look at why we get anxiety, then talk about and practise things we can do to reduce it or avoid getting it, as well as chatting about some practical solutions. Then we'll do a neuroscience based process to help to feel empowered and confident at the prom. I'll be sharing with you these tools from my work as a Hypnotherapist, NLP Master Practitioner and Health and Wellbeing Coach.
By booking a place at this workshop, you accept the following terms and conditions:
You consent to sharing your details with me in accordance with my Privacy Policy.
You are happy to use Zoom and will ensure it is installed on your device in advance.
You are ok to find a suitable place to attend this workshop where you won't be disturbed, so you can engage and interact freely.
As this workshop is designed for under 18s, a parent/guardian will consent to your attendance.
I am unable to guarantee results, however most people who attend my workshops/sessions report positive benefits.
This workshop is only designed to help reduce anxiety in relation to the Prom. If you need help with general/complex/severe anxiety please contact me to see if I can help; you may benefit from a different approach.
I am not able to give medical advice and this workshop is not a substitute for medical help.
I recommend that you display your first name only, on Zoom, for your own privacy, as this is a public workshop.
I will not be recording this session.
Nobody is required to share personal info during the workshop. If you'd like to contribute to any conversation, this is your own choice.
You agree to be respectful and maintain confidentiality regarding other attendees.
In the unlikely case of me having to cancel or reschedule this event, liability for any losses will not be accepted.
Please have your device camera on as I will be observing and calibrating participants to get optimal results.
If you would prefer to attend this workshop privately, a one to one session can be arranged for a fee of £60. (Please email me: jo@wingswellbeing.co.uk or contact me via my website www.wingswellbeing.co.uk )
Thank you for reading; it will be great to see you at the workshop!
Jo Sawkins, Wings Wellbeing