Construction milestone marked at St Catherine's new hospice
Published: 01 Mar 2023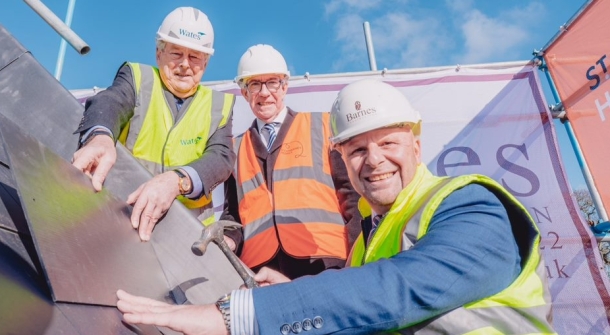 Andrew Wates OBE, Bill Mackie and Mark Hart at the topping out event  (pics here)  
A major construction milestone has been reached at the new St Catherine's Hospice currently being built at Pease Pottage. 
Hospice staff and key supporters, along with representatives of the construction team and project partners, came together to celebrate the 'topping out'. 
Historically the topping out ceremony draws on centuries of tradition, with builders celebrating the moment a structure reaches its highest point, and the building becomes watertight.  Originally used as an opportunity to bestow good luck on a structure, today it is seen as a moment to thank the workforce, bring together everyone involved in the project and celebrate progress. It also provided the last opportunity to get a birds-eye view of the site, before the scaffolding starts coming down.   
To mark the occasion, St Catherine's Vice President Andrew Wates OBE and Bill Mackie, both members of the hospice's New Build Project Board, joined Joint Managing Director of Barnes Construction, Mark Hart, on the roof of the new hospice building, to lay the last roof tile. 
Commenting on the event, Paul Rycroft, St Catherine's New Build Director said: "We are delighted that works have progressed on schedule, and it's been incredible to see how the structure has evolved over the last 11 months from a dirt plot, to what we see here today - the complete shell of a hospice building; a hospice that will provide us with the space to develop essential services and respond to increasing need for end of life care and support to terminally ill people and their families across West Sussex and East Surrey."  
The project is being managed by Barnes Construction, who over their 45 year history have delivered numerous healthcare schemes. Of particular relevance are the Arthur Rank Hospice in Cambridge, the East Anglian Children's Hospice in Ipswich, and the Fair Havens Hospice in Southend.  
Mark Hart added: "The construction team which includes LSI Architects, Faithful + Gould, Northmores, Conisbee and David Bedwell & Partners, have all been working really hard to keep the work on schedule, so today was a great opportunity to thank them. With just nine months to go until the hospice is handed over, we have much work still to do. Work will now continue in earnest on the internal fit out including partitions, M&E, plumbing, pipework, cabling and plastering." 
The new hospice building is planned to open to patients in Autumn of this year. To find out more or to make a donation visit stch.org.uk.