EBISS Wins BIG at the Exhibition News Supplier Awards 2023
Published: 14 Sep 2023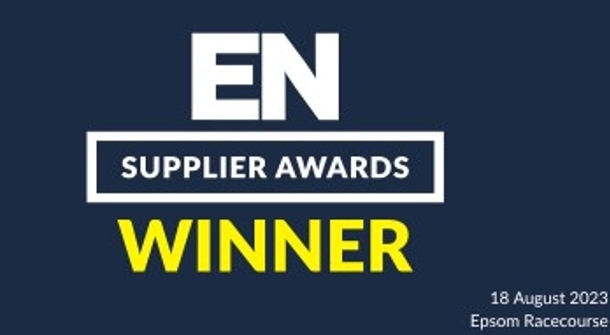 Exhibition News is the flagship publication for the Exhibition world in the UK and these awards represent the very best businesses in the exhibitions and exhibition support industries.  
About EBISS: EBISS are a small but driven logistics powerhouse!  Providing shipping, packing and logistics for exhibitors and event organisers around the world.   For overseas events, particularly in the EU, Brexit has brought with it numerous additional challenges for UK exhibitors.  Challenges that EBISS have risen to at every step.  Including changes to the company structure to ensure the very best freight and shipping services, that dovetail in seamlessly with the exhibition stands and events specialist team, and the Art Division who handle fine art and sculptures for artists, galleries, art fairs and exhibitions worldwide.    The vehicle fleet is also transforming as the EU, country specific, regulations change regarding the weight and size limits permissible, all in the name of ensuring clients shipments continue to flow easily into the EU on EBISS vans.
EBISS are IATA Cargo Agents, booking shipments direct with the airlines to offer the best possible pricing and reduced lead times for shipments, and are qualified to handle dangerous goods.  Seemingly innocuous items, such as giveaways with batteries included can fall into this bracket.  EBISS are also RHA (Road Haulage Association) members ensuring that the vehicle fleet, drivers and processes comply with the highest levels of safety, reliability and accountability.  Every shipment is in safe hands when it is with EBISS!
About Exhibition News: Exhibition News (EN) is the voice of the UK exhibition industry, constantly amplifying the power, creativity and successes of a multi-billion pound industry that drives trade as well as consumer engagement. Through our portfolio of print, digital and live brands our mission is to challenge the industry to reach new heights whilst raising the profile of its success. Every month EN brings the latest news, analysis, comment, debate and education to the industry, helping drive best practice and excellence in key roles such as management, marketing, sales and operations. Our audience covers the vast expanse of the industry from organiser CEOs and show teams, through senior venue and contractor professionals, agencies and associations, all of whom are involved in the creation of the shows our industry is so proud of. The UK exhibition sector is a key component of industry, bringing innovation, business opportunity and economic impact wherever it takes place. If it's in exhibitions, it's in Exhibition News.
Everything that we achieve is only made possible by the incredible team that we have at EBISS UK, based just outside Burgess Hill.  The dedication and expertise of every single team member is recognised and rewarded, acknowledged and celebrated.