Gatwick Airport Community Trust supports charities and groups in Sussex
Published: 15 Sep 2023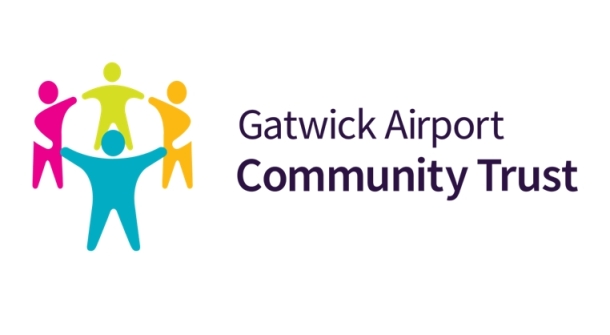 Good causes across Sussex were celebrating this week after Gatwick Airport Community Trust announced the recipients of thousands of pounds of funding.
Money went to groups in Crawley, Horsham, East Grinstead and Haywards Heath, as well as around East and West Sussex, which will be used to carry on essential work during the cost-of-living crisis.
Every year The Gatwick Airport Community Trust invites groups across Sussex, as well as across Kent and Surrey, to apply for funding.
In 2023 a total of £200,000 was distributed to good causes across the region.
Melanie Wrightson, stakeholder engagement manager at London Gatwick said: "We know from the feedback we've received that these contributions have a significant impact, enabling charities, clubs and organisations to thrive and continue making a difference.
"This is especially important during the challenging economic times the country is facing where rampant inflation is affecting every aspect of our lives.
"It's a privilege for everyone at London Gatwick to be able to play our part in having a positive impact on our community with the Gatwick Airport Community Trust as we continue to provide employment for many people in the area."
Amongst the groups to benefit in Crawley were the Friends of Forge Wood (£2,500), Crawley Down Residents Association (£2,300), Golden Lion Children's Trust (£2,000), St Catherine's Hospice (£1,690), Downsman Bowls Club (£1,500) Children's Safety Education Foundation (£1,500), The Donkey Field Pre-School (£1,500), The Juno Project (£1,500) and Super Siblings (£1,500).
Super Siblings in Crawley provides monthly support sessions for children with SEN and disabled siblings.
Jackie Strange Chairperson at Super Siblings said: "We were delighted to receive the funding and can't wait to top-up our 'Wish Jar' with the children's ideas of how to spend it.
"We ask our children to think of activities that they are unable to experience at home due to the limitations imposed by their sibling's needs.
"This can be anything from doing arts and crafts in a quiet and calm environment to having some noisy and messy fun that their sibling might find overwhelming. We would like to thank everyone that made this grant possible."
Amongst the groups to benefit in Horsham were Horsham Borough Band (£2,500), The Clarkes Mead Trust (£2,250), Horsham Rotary Club (£2,000), Horsham Rugby Sports & Social Club (£2,000) and Albion in the Community (£1,800).
Phil Broom, disability department lead at Brighton & Hove Albion Foundation, said: "The £1,800 from the Gatwick Airport Community Trust will be used to give more young people with a disability the best possible opportunities to take part in football.
"We will be delivering weekly football sessions in Horsham available for all.
"The funding will go a long way to supporting us to provide inclusive football opportunities to young people with a disability, and we couldn't continue our work without the support of funders like the Gatwick Airport Community Trust."
In Haywards Heath some of the groups to receive funding were Slaugham Community CIC (£3,100), Rockinghorse Children's Charity (£2,000) and The Church of St Augustine.
And in East Grinstead money went to groups such as Dormansland War Memorial Hall (£2,850), Friends of Standen Estate (£2,500), St John's Church Felbridge (£1,500), Felbridge & Sunnyside Cricket Club (£1,500) and Dormansland Primary School PTA (£1,500).
Elsewhere in Mid Sussex recipients included Mid Sussex Voluntary Action (£2,600), Kangaroos Mid Sussex (£1,500), Balcombe Cricket Club (£1,500) and Friends of Bolney CEP School (£1,250).
Across West Sussex, beneficiaries included organisations such as Ansty Village Centre Trust (£3,000), JubyLee Bakes CIO (£2,500), West Sussex & Surrey Angling Academy (£2,250), Life 2009 (£2,200), The Benedetti Foundation (£2,000) and Sussex Chorus (£1,750).
And across East Sussex recipients included groups such as The Good Company People CIC (£3,000), Danehill Parish Council (£2,000), FRow Friends (£1,600) and Forest Row Cricket Club (£1,260).
Funding was awarded to more than 100 community groups and charities which operate across Kent, East and West Sussex and Surrey.
Funding applications for 2023 are currently closed, but groups will soon be invited to apply for 2024.
The Gatwick Airport Community Trust is an independent charity which provides financial support to projects aimed at the development of young people, fostering the arts, enhancing sporting facilities, promoting environmental improvement and conservation, improving community facilities, supporting volunteering initiatives and assisting the elderly and disabled individuals.
The purpose of setting up the Trust was to ensure that, as the airport continued to grow, funds generated by the existence of the airport should be made available to a board of independent trustees, to make a positive contribution to the quality of life of the communities affected by the airport and its continuing growth.
For more information about the Gatwick Airport Community Trust, visit https://www.gact.org.uk/
London Gatwick is also urging community groups and charities in Sussex to apply for the next round of funding from the Gatwick Foundation Fund, which is managed on behalf of the airport by the Sussex Community Foundation.
The deadline for applications is 8 September, 2023.
For more information please visit https://sussexgiving.org.uk/