News and opportunities for businesses from University of Brighton
Published: 12 Sep 2023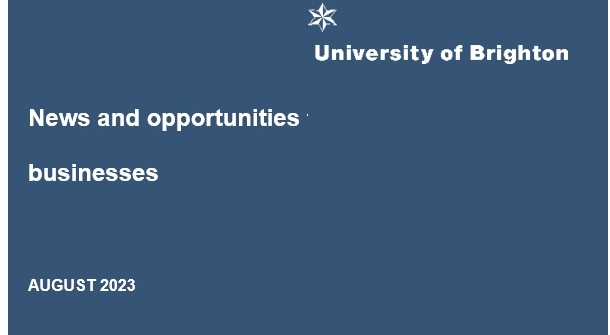 AUGUST 2023
Here are some of this month's highlights for our regional businesses and beyond - including some of the ways we can provide skills and innovation support.
If you would like to learn more about how the University of Brighton could work with your business - visit www.brighton.ac.uk/business or get in touch at knowledgeexchange@brighton.ac.uk.
Funding success supports new partnerships with Sussex businesses
Three Sussex businesses will be given help to innovate and grow thanks to new partnerships with the University of Brighton, supported by UK government funding as part of the Knowledge Transfer Partnership (KTP) programme.
Students land scholarships with global technology firm
Students from the University of Brighton have been awarded two of three annual scholarships offered by a leading Brighton-based global technology company, Paxton.
Happy Birthday Help to Grow
It's been a year since the first Help to Grow cohort graduated at the university. In this time the management programme has supported nearly 100 business leaders to grow and the 5th cohort has just graduated. 
Brighton professor voted among top 100 science leaders and influencers
An award-winning Brighton professor has been recognised as one of the top 100 leaders and influencers in analytical science over the past decade
Upcoming events and workshops
How can Clean Growth UK help your business?
7 September, 10am - 12pm, Online
Create a business model fit for Net Zero
14 September, 10am - 11.30am, Online
Make your ideas happen with the Innovation Canvas
21 September, 10am - 11.30am, Online
Mapping Mithras - an oral history of Mithras and the surrounding area
27 September, 6pm - 8.30pm, The Bevy Pub, Brighton
Business Plan Builder
28 September, 10am-11.30am, Online
Why do some people live to be one hundred?
4 October, 6pm - 8.30pm, The Bevy Pub
Surgery: Time for an inclusive and sustainable future?
4 October, 6.30pm - 8pm, BSMS Teaching Building, Brighton, BN1 9PX