Rewild your wardrobe this autumn with Sussex Wildlife Trust
Published: 13 Sep 2023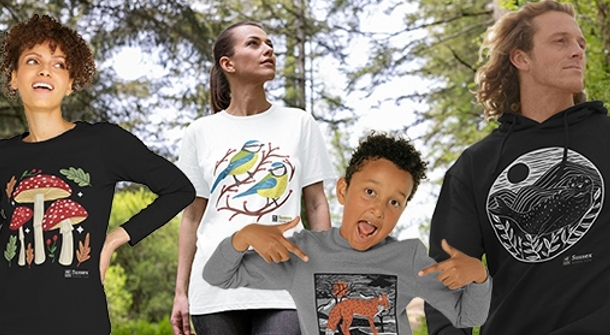 We are excited to share our new autumn and winter clothing designs with you. Celebrating Fly Agaric mushroom, Blue Tit, Fox and seal. All designs are also available as tote bags. 

We are also pleased to offer free postage on all UK orders from our Teemill Store until midnight on Sunday 3 September 2023.
All profits support our wildlife conservation work in Sussex. Our organic cotton clothing is printed in the UK, in a renewable energy powered factory. Even better, you can return your items when they are no longer wearable, for them to be remade into new garments.
Wildlife identification apps
Smartphones can do a lot, but can they reliably identify wildlife? Various apps offer identification by using an image or a sound to tell you what you're seeing or hearing in that moment. It's a great way of making nature more understandable - especially for beginners - and we're always keen for more people to connect with nature. But do ID apps always get it right?

Using AI for identification is a complicated business! We take a look at some popular ID apps - and consider the pros and cons.
Upcoming Events