Southern station opens doors to Surrey foodbank
Published: 24 Feb 2023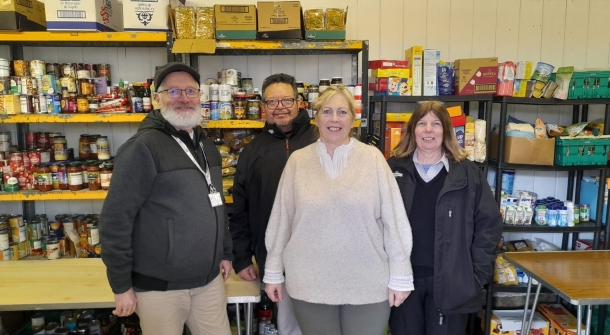 Southern Railway has come to the rescue of a Surrey foodbank that had to move out of its previous accommodation by providing space at the local station.
The foodbank, run by the Whyteleafe Community HUB charity, now has its preparation and distribution centre in a large former storeroom at Whyteleafe station.
When the community group heard that its previous host could no longer spare the space, station sales clerk June Henty, a member of the group, asked her employer if the disused storeroom could be made available, and Southern were delighted to open it up for community use.
The Community HUB renovated and redecorated the storeroom themselves, and moved in last week.
The foodbank is supported by Whyteleafe Village Council. Through June Henty's work, the Council have just become Southern's latest official community partner, for Whyteleafe and Whyteleafe South stations, which means the Council and Southern will work together on community initiatives focussed on the stations.
Sara Jones, Chairman of the Whyteleafe Community HUB, said: "We are grateful for the use of the storeroom at Whyteleafe station. It serves as the central hub for our growing food bank operations. This is where we store and pack the food parcels that are currently going out to over 200 families a month in Whyteleafe and surrounding areas."
Stephen MacCallaugh, Southern's Head of Stations, said: "We're always looking for ways to make our stations more valuable assets for the communities they serve, so when June came forward with this great idea we really wanted to help. I'm pleased we're able to play a part in supporting people in need in the Whyteleafe area during this difficult time.
"June and the Community HUB have done a marvellous job of smartening up the storeroom to bring it back into use. Thanks also to our Area Manager Walid Basma and the whole station team for their support. We're all looking forward to working in partnership with the Village Council on more local initiatives in the future."