Sussex Women In Business Event
Published: 28 Feb 2023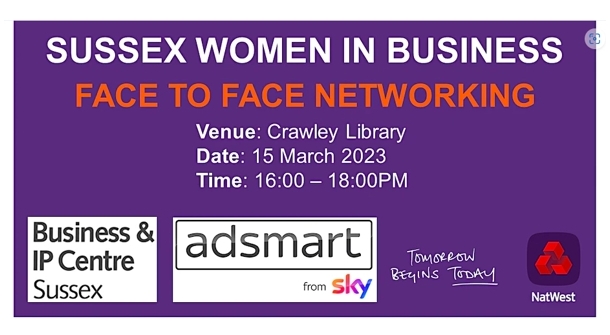 Sussex Women in Business networking event provides an opportunity for women to meet, educate, inspire and support each other, This will be a fun interactive 2 hours of Networking hosted by NatWest in partnership with BIPC Sussex.
We truly believe networking has become more important than ever, and we are here to support businesses.
There will also be an opportunity to hear about the banks support to Entrepreneurship and Women in Business and BIPC Sussex will speak about the support they offer.
Guest Speaker: Kurt Edwards from AdSmart has been in media for over 25 years working for companies such as Future, Emap, Bauer, Capital Radio and now Sky where he helps businesses grow using Sky's platforms. He's won a variety of media industry awards and works with the NatWest Accelerator program to help new businesses develop their marketing approach.
https://www.eventbrite.co.uk/e/sussex-women-in-business-networking-event-tickets-526328591987