Time capsule buried at St Catherine's new hospice in Pease Pottage
Published: 04 Aug 2023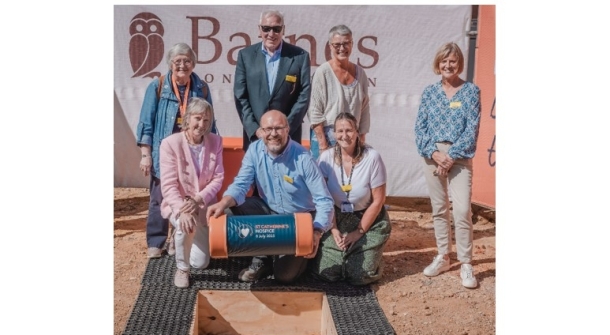 St Catherine's time capsule being placed into the ground (Pics here)
LtoR: Ann Dutton, Terry O'Leary, Zoe Dolding, Catherine Blackburn, Kathy Gore, Paul Rycroft and Fiona Anderson 
St Catherine's Hospice proudly buried a time capsule in the grounds of its new hospice at Pease Pottage on Thursday 6 July to mark 40 years since it first began providing palliative and end of life care to the local community in 1983.  
During a short ceremony, the time capsule was buried in an internal courtyard that will become a reflective garden within St Catherine's impressive new hospice building, which is due to open at the end of the year. 
The hope is that the time capsule will be uncovered in another 40 years' time when St Catherine's is celebrating its 80th anniversary in 2063. When the reflective courtyard is completed, there will be a plaque highlighting where it is located for future patients, families, volunteers and staff to see. 
The time capsule was filled with a large selection of items for future generations to enjoy and treasure, including: 
Memories of loved ones who have been cared for by the hospice over the years
A letter from Terry O'Leary, the current Chair of Trustees, to the future Chair in 40 years
Memorabilia from historic milestones in the hospice's history, including the Queen Mother's visit to the Crawley hospice in 1982
Reflections on how hospice care has changed and developed over 40 years 
Memories from volunteers each representing a different decade of support 
Images and film footage of St Catherine's current hospice at Malthouse Road 
Charity merchandise including a memory leaf and Midnight Walk medal
Building plans for the hospice at Pease Pottage
A trowel that helped to build the new hospice
An 80th birthday card for St Catherine's in 2063
Also attending the ceremony on the day were some of the charity's trustees, members, staff, volunteers and a representative from Friends of Sussex Hospices, Kathy Gore, an independent charity that raises funds to support the running costs of the 13 hospice care providers in Sussex. 
The time capsule was lowered into the ground by St Catherine's longest serving volunteer of 40 years, Ann Dutton, staff members Zoe Dolding and Fiona Anderson who are both marking 30 years' service at St Catherine's in 2023, Chair of Trustees, Terry O'Leary, Trustee Catherine Blackburn, New Build Director Paul Rycroft and Kathy Gore from Friends of Sussex Hospices.  
Chief Executive Giles Tomsett, said: "The time capsule that we are burying today represents all that has gone before. Locked inside this capsule are memories from the last 40 plus years and it will safely sit in this spot and act as a sentinel here in our reflective garden which future patients and their families will enjoy. 
"We lay this time capsule into this place with the expectation that it will be opened in another 40 years from now, when St Catherine's is celebrating its 80th anniversary in 2063 – quite a thought!  Until then, there will be a plaque above the time capsule so that future staff, volunteers, visitors and patients will know that it lies here as a gift to a future generation.  
"Let us hope that when this time capsule is opened in 40 years' time, the next generation will have continued our cause to ensure that there is the best end of life care for everyone and that all local people face death informed, supported and pain free.   
"I have no doubt that, thanks to the drive, determination, imagination, and passion for our work, St Catherine's will continue to lead the way with exceptional local palliative and end of life care services – grounded in its founding principles of outstanding care, compassion and understanding." 
St Catherine's Hospice provides expert end of life care and support to terminally ill people and their families across West Sussex and East Surrey.  St Catherine's cares for around 2,000 people every year living with a terminal illness, in its hospice in Crawley, in people's own homes and in care homes. Eight in ten people cared for by St Catherine's are supported in the comfort of their own home. 
For more information about St Catherine's please visit stch.org.uk.