Updates and opportunities from the University of Brighton
Published: 08 Aug 2023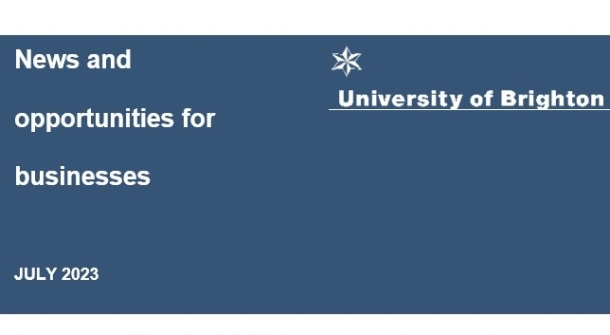 Here are some of this month's highlights for our regional businesses and beyond - including some of the ways we can provide skills and innovation support. 
If you would like to learn more about how the University of Brighton could work with your business - visit www.brighton.ac.uk/business or get in touch at knowledgeexchange@brighton.ac.uk. 
Brighton recognised as among the world's leading business schools
Advance Collegiate Schools of Business (ACSB) accreditation recognises institutions that have demonstrated excellence in research, curriculum development, and student learning.
Students receive graduation day congratulations from space!
Brighton students received an incredible video congratulating them on graduating from a Brighton graduate currently living 250 miles above the Earth.
Using zero gravity to improve lower limb wound treatment in space
Brighton researchers will analyse a pioneering lower limb test kit in zero gravity to learn more about wound healing in space and improve diagnosis here on earth.
Honouring pioneers in human rights, sustainability and diversity in business
Sunny Jacobs, Ken Webster, and Rosemary French OBE were recognised as honorary graduates last week for their contributions in the fields of human rights, sustainability, and diversity in business.
Another successful cohort from the Help to Grow programme! 
Delivered by the university's School of Business and Law, the recent Help to Grow cohort finishes with local business participants saying how they are already using their learnings to improve their businesses.
KTPs - a cost efficient route to grow your business
Are you serious about Research and Development (R&D) but lack the in-house resources or expertise to tackle a new project? If so, a Knowledge Transfer Partnership (KTP) could be the solution you've been looking for...
Upskill your workforce with a degree apprenticeship
Apprentices are able to earn as they learn while gaining a qualification to progress their career.