Updates, opportunities, and events from the University of Brighton
Published: 02 May 2023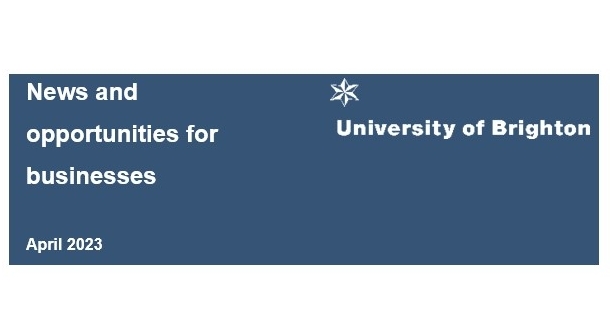 Here are some of this month's highlights for our regional businesses and beyond - including some of the ways we can provide skills and innovation support. 
If you would like to know about how the University of Brighton could work with your business, talk to us - contact the team at enterprise@brighton.ac.uk. 
Local employers bring opportunities directly to students
A new way to introduce local employers and students has launched at the University of Brighton - providing local employers the chance to meet students in person through regular afternoon events.
New research centre puts Brighton at cutting edge of the fight against disease
A new UK hub for the development of innovative ways to prevent, diagnose and treat disease has opened its doors at the University of Brighton.
Brighton lecturer revealed as artist behind smash-hit true crime podcastA lecturer has been revealed as the artist behind the original artwork for the latest hit podcast from The New York Times, 'The Coldest Case in Laramie'.
Work with us
Take the first step towards being innovation-active
This is last chance to join the STEPs programme as part of our fully funded RISE project. Join us online, for two full days where you'll get a practical, immersive, and interactive journey into the real world of business innovation.
Graduating from Help to Grow
These happy business leaders have just completed their 12 week mini MBA style programme with the University of Brighton.
Help to Grow provides the skills and support for participants to review their business and come away with a growth plan.
New September dates for Crawley/Gatwick and Brighton.
Get your business to Net Zero, faster

Net Zero 360 is a free, 3-part course where you'll learn how to create a tailored sustainability action plan based on insight and data.
You'll cover the full breadth of carbon emissions, and get to connect with other businesses on a net zero journey.
Upcoming events
Become your own market research expert
2 May, 9.30am-12pm – Online
3 May, 9.30-4.30pm - Business & IP Centre, Worthing Library
Origins of the giant sarsens at Stonehenge
3 May, 6-7.30pm – The Bevy Pub, Brighton
4 May, 1-2.30pm - Online
Marketing Strategy for Business Growth
3, 10, 17 and 24 May, 9.30am-12.30pm - Online
9 May, 9.30-4.30pm - Business & IP Centre, Horsham Library
9 May, 9am-12pm – Online
Democratic equality after climate change
10 May, 6.30pm – Elm House, University of Brighton
How to write a winning grant application
16 May, 10am-12pm – Online
17 May, 4-6pm – Elm House, University of Brighton
23 May, 10am-12pm – Online
Movie magazines and Hollywood: An interdependent history
24 May, 6.30pm - Sallis Benney Lecture Theatre, University of Brighton