Your April business and tax updates
Published: 02 May 2023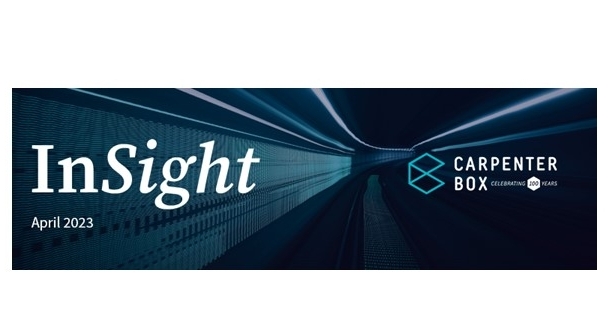 I want to start off by saying Happy Retirement to one of the longest-serving members of our team, Shobha Samuels, after an incredible 35-year career at Carpenter Box. She had a significant impact on both her colleagues and her clients, and her hard work and dedication epitomise the culture and ethos of the firm. Thank you Shobha for your extraordinary contribution – you will be missed!
We have a number of exciting in-person events planned in May for you. These include an Economic and Tax Update with Handelsbanken as well as a Planning for Later Life Panel with our colleagues Carpenter Box Financial Advisers and Coole Bevis Solicitors, both held at the beautiful Chichester Yacht Club.
Partner Rob Dowling will also be discussing better contracts and accounting policies for construction businesses to increase profits and cash with EMW Law in their Crawley offices. There is more information below about our events, where you can also register for your free place.
I hope you enjoy the long weekend. From all of us at Carpenter Box, congratulations to HM King Charles III on his coronation next month.
If you have any questions or concerns please speak to your usual Carpenter Box contact or get in touch with our team.
Planning for Later Life event
A panel of later life specialists from Coole Bevis LLP and Carpenter Box Financial Advisers will discuss the key topics that you need to consider when planning for your future.

Topics covered:
The importance of making a will and the common myths and scams around wills.
Common types of will disputes and practical steps you can take to try to avoid a dispute arising.
Powers of Attorney – why make an LPA?
Estate planning – what actions should you consider?
Later Life financial planning solutions including care fees planning and inheritance tax mitigation.
Details:
Date: Wednesday 24th May 2023
Time: 11.00 – 14.00
Venue: Chichester Yacht Club
Economic and Tax update Seminar
The world is moving fast which can make planning for the future difficult.

Join us to listen to James Sproule, UK Chief Economist at Handelsbanken, who will provide you with an overview of the economy and the outlook ahead. This will be followed by a tax planning update from David Crowter, Tax Partner at Carpenter Box.

Following the presentation there will also be an opportunity to ask questions.

Breakfast refreshments will be available.
Details:
Date: Wednesday 10th May 2023
Time: 8.00 – 9.45am
Venue: Chichester Yacht Club
Construction Seminar
Better contracts and accounting policies: increasing profits and cash.

We'd like to invite you to our breakfast event on our experts' recommendations on how to improve your project's bottom line.

Caroline Watkins of EMW Law LLP and Rob Dowling of Carpenter Box will lead a discussion on good practice to improve the position on cost for construction businesses.

Topics include:
Cost models
Materials and title
Risky contract terms
Adjudication – speed vs cost

Details:
Date: Thursday 25th May 2023
Time: 8.30 – 10.30am
Venue: EMW Law Offices, Crawley

To book your free place, please RSVP to Jayne Bryant via email: jayne.bryant@emwllp.com
Top 10 tax considerations when selling a business
Tax considerations can be vital in a selling a business. The ability to structure a sale on a tax-efficient basis is central to maximising shareholder value.
Reviewing the position in advance of selling a business may identify opportunities. These opportunities can be capitalised on and any risks dealt with.

We outline our top 10 considerations when selling a business below. However, we always recommend professional advice on a timely basis. This should be tailored to individual circumstances, with specialist tax support through the transaction process. 
Inflation and actions for business owners
We all know the effect inflation is having on our personal spending power. 
Inflation is the rate at which the prices for goods and services increases. It's an unavoidable part of economics, and can indeed encourage spending. When prices are expected to rise, consumers will often buy goods and services now rather than wait.
Although the rate of inflation is decreasing, current UK inflation is still above 10%. What actions can you take as a business owner to tackle inflation?
Sustainable business: a guide to getting started
We're all keen on doing the right thing but it's got to make commercial sense too. So, why should you make your business sustainable and what are the benefits?
The McKinsey Report published in 2019 Five Ways that ESG creates value cited "When it comes to Ethical, Social and Governance factors (ESG), a do-nothing approach is usually an eroding line, not a straight line".
In this blog we break down some of the buzz words and acronyms around sustainability and running a sustainable business so you can really get going with some practical tips and inspiration.
Happy Retirement Shohba!
After 35 years of unwavering hard work and dedication, Shohba Samuel has bid farewell to Carpenter Box.
While we are sad to see Shohba go, we are excited for her as she embarks on this new chapter of her life in retirement. In this blog post, we celebrate Shohba's impressive career at Carpenter Box, the impact she had during her time in the company, and look forward to what the future holds for this remarkable individual.
Events:
Resources:
For a full listing of our resources and information sheets, visit our resources page on the Carpenter Box website.  
01 May 2023
Corporation tax payment due for year end 31 July 2022, for those companies not liable to pay their liability by instalments
07 May 2023
Due date for April VAT returns unless exempted
19 May 2023
Construction Industry Scheme: monthly return due for period up to 5th of previous month
22 May 2023
If paying electronically, pay PAYE, class 1 NICs, student loan deductions and deductions from payments to subcontractors for the month up to the 5th of this month
31 May 2023
Filing deadline for corporation tax return self-assessment form CT600 for period ended 31 May 2022 to be submitted to HMRC
Deadline for filing your annual accounts is 9 months after your company's financial year ends
Deadline for issuing P60s to employees for 2022/23