4th February is World Cancer Day and Cancer Research UK would love to see the Gatwick Diamond businesses unite together against cancer for a very special campaign!
Published: 29 Jan 2018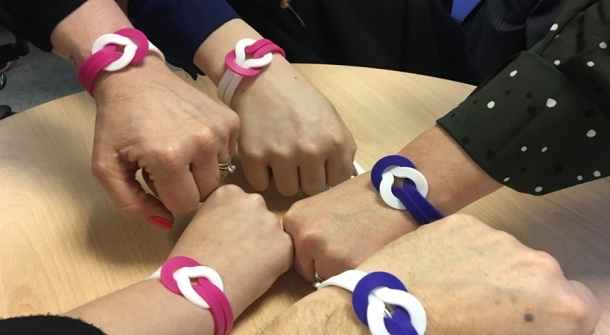 Cancer Research UK is the only charity dedicated to researching all aspects of cancer including research into over 200 different types of the disease. Huge progress has been made since the 1970's when 1 in 4 people would survive a cancer diagnosis. Today, 2 in 4 people survive a diagnosis but that is not good enough and their ambition is to see 3 in 4 people survive cancer within 20 years and that cancer be a manageable illness. They cannot do this without our help – all the money they receive and spend on this life changing science is donated by the public. They don't get any government funding. And it may surprise you to know that 90% of the donations received are for less than £10. So supporting World Cancer Day by donating for a Unity Bracelet really will make a difference.
It's easy to do your bit – simply donate. Then share your support on social media with photos of your staff uniting together and wearing their wristbands, joining millions of people around the world on World Cancer Day. Thank you and we can't wait to see Gatwick Diamond uniting with Cancer Research UK to beat cancer sooner.
To find out more information please visit: http://www.cancerresearchuk.org/support-us/donate/world-cancer-day
Please contact Sharon Baldwin (Local Fundraising Manager) if you would like a box for the workplace Email: Sharon.Baldwin@cancer.org.uk