gdb Members 4D Data Centres Wins Prestigious Eco Award!
Published: 30 May 2019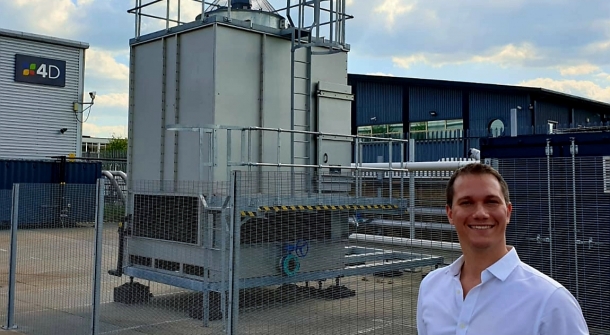 Last week, Gatwick based business 4D Data Centres, won an award for its eco-friendly data centre in the Manor Royal estate. The family-owned business was up against some of the largest tech companies in the country at the Data Centre Solutions (DCS) awards held in London.
Data centres are at the heart of nearly all internet-based technologies including Facebook, Google, WhatsApp and Amazon. Keeping all this technology online takes a lot of power, not only to run the computers themselves but also to keep them cool, otherwise they'd quickly overheat.
The full title of the award was 'Energy Efficiency Project of the Year' and was in relation to a 'water tower' system that uses evaporative cooling to lower the temperature of the computers in the data centre. Evaporative cooling used in this way is very innovative in the UK but at its heart it's the same process that we as humans use to cool ourselves down. When we get hot, we sweat and it's this process of water evaporating off the skin which cools us down.
4D won the award along with its engineering consultancy Aqua Cooling Group who was commissioned to design and build the water tower. The DCS Awards are to the data centre industry what the BAFTAs are to TV and films, which makes it all the more remarkable that a relatively small local business was able to beat other short-listed companies including Iron Mountain, DigiPlex and 6 Degrees Group. Co-founder and MD of 4D, Jack Bedell-Pearce said of the win, "it was a genuine surprise to be recognised for this project." He went on to say, "we're really passionate about pushing the usage of eco-friendly technology and if all data centres adopt these kinds of cooling systems we'll collectively make a significant dent in power usage and the impact on the environment."
For more information about 4D Gatwick, and the services it can provide to your business, please visit: www.4d-dc.com/data-centre/gatwick