Thakeham Welcomes Chancellor to Woodgate Pease Pottage
Published: 12 Nov 2019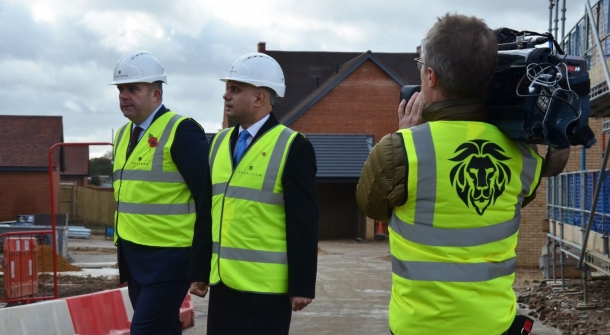 Leading property developer Thakeham was delighted to welcome the Chancellor of the Exchequer, Sajid Javid MP, to Woodgate today (11 November 2019), its new housing development at Pease Pottage.  Woodgate – a development of 619 homes in West Sussex – provided the backdrop for the Chancellor's comments on the latest GDP figures released by the Office for National Statistics which reported that the UK's economy grew 0.3% this quarter.
Robert Boughton, Group Managing Director at Thakeham Group, was on hand to welcome the Chancellor for a tour of the development. "It was a pleasure to host the Chancellor at Woodgate today following the latest report from the ONS." says Rob Boughton at Thakeham Group. "Everyone at Thakeham has a passion for property, so we were pleased to learn about the strong performance of the construction sector in particular. It was an honour to show the Chancellor the hard work that is being put in at the development at Woodgate to ensure we establish a high-quality development with a good selection of attainable homes as part of our goal of being the leading quality housebuilder in the South East."
Speaking at Woodgate, the Chancellor said the figures were "another welcome sign that the fundamentals of the UK economy are strong. Under the conservatives, we've seen nine consecutive years of growth."
A spokesman for the Office for National Statistics (ONS) said: "GDP grew steadily in the third quarter ended in September by 0.3%, mainly thanks to a strong July. Services again led the way with construction also performing well."
The showhomes on site at Woodgate, Pease Pottage were a hub of excitement during the announcement with a number of national news reporters visiting from BBC, ITV, Sky and Channel 4 News, all filming interviews with the Chancellor followed by tours on site to see the construction of the new development in progress.
About Woodgate
Woodgate is a new development 619 new homes with a selection of one, two, three- and four-bedroom homes including a new Primary school as well as the future new home for St Catherine's Hospice, blending town and country living together in one thriving community, with all the convenient connections that position you in the middle of everywhere.
Whether you're from the city in search of a well-connected community, or local and looking for a change in lifestyle, welcome to Woodgate.
More than just a place to live; here you can live the life you choose and keep the lifestyle you love. With a choice of design for either traditional living by Thakeham or modern contemporary living by Alphium, Woodgate is the perfect place to begin your next journey, and to love coming home to. Woodgate Showhomes are now open – call 01293 225615 to book a personal appointment with the sales team.
For more information visit: https://www.mywoodgate.co.uk/