Exciting move for Kreston Reeves in Brighton
Published: 17 Dec 2020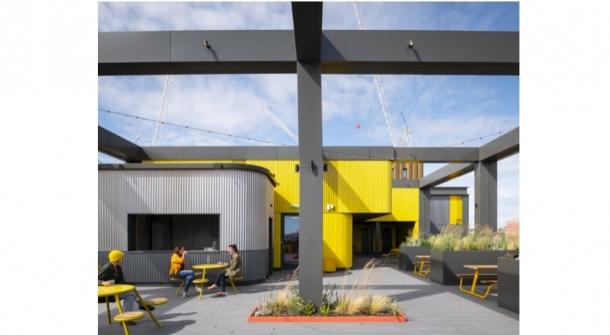 The team at Kreston Reeves will be moving from the Jubilee Street offices where they have been based for the last 15 years, into a new collaborative and innovative office space at the Plus X Innovation Hub, Brighton from January 2021. The move will help them take a step closer to being a carbon neutral business by the end of 2021, and to continue to support the UN Sustainable Development Goals that the firm are actively working towards.
Plus X offers sophisticated meeting spaces, state of the art media suites and product prototyping facilities and a business innovation programme called BRITE. There is a welcoming community and strong focus on wellbeing which aligns with the Kreston Reeves purpose, culture and values. The new office space also offers team members the opportunity to be part of an innovative, entrepreneurial community in a more collaborative setting. 
Alison Jones, Partner at Kreston Reeves, comments: "We are proud to continue to be at the heart of this amazing community! Brighton has always been a great place to work and live, and we can only see it getting better with a variety of exciting developments and initiatives across the city. Brighton is full of amazing minds and inclusive views and is brimming with innovation.
"Our team will continue to focus on guiding our clients to a brighter future. We help businesses, individuals and not for profit organisations with more than just accounting, business and financial advice, we help them achieve their goals. Businesses based in and around Brighton tend to be very progressive, the way our clients are working has changed and we are here to support them as they develop and grow."
Jake Standing, Partner at Kreston Reeves, adds: "We are really excited to be moving to the new Plus X innovation hub in Brighton. We've been lucky enough to call Brighton 'home' for a number of years already but with the rapid changes and developments in technology and with agile and flexible working becoming the norm, we wanted to find something a bit different to the traditional office, that reflects our culture and values, and Plus X is perfect for us!
"Although some businesses are moving to working from home full time, it's incredibly important to us to have a space where we can maintain human, face to face interaction with our clients, colleagues and communities. We're looking forward to further enhancing our 'in person' relationships with this move."
Alexandra Young, Location Manager at Plus X, said; "Welcoming collaborative members who will enhance our growing community is key to the Plus X formula. Kreston Reeves are a forward thinking businesses who place great importance on adding value to their clients and we know that approach will be very much valued by our members here in the Plus X Innovation Hub."