Atlantis Swimming Club in Horsham Celebrates Christmas Open Meet with New Sponsorship Announcement
Published: 10 Dec 2021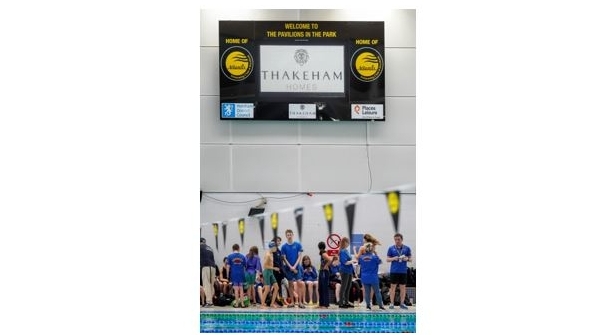 A Horsham-based swimming club is celebrating its first-ever club sponsor in the same week it hosted its first open meet for more than 20 months.
The Atlantis Swimming Club, with more than 300 members, feared an uncertain future after Lockdown effectively wiped out an entire year-group of young swimmers. After celebrating its 40th anniversary in 2020, restricted access to local swimming facilities had curtailed the club's training and events. An online appeal for funds had already helped to generate more than £8,000. Now, a new sponsorship agreement with Billingshurst-based home developer  Thakeham Group is a welcome boost in their fight for survival.
The four-figure deal to sponsor the Atlantis Swimming Club was celebrated at the Christmas Cracker open swimming event at The Pavilions in the Park in Horsham on November 27th and 28th. More than 400 local swimmers took part. For Atlantis Swimming Club, chairman Matthew Cumber, said: "This has been a challenging period for everyone involved in grassroots sport. And none more so than swimming. It has been very stop/start for a number of months during Lockdown. We have only returned to normal training since September. "After 40 years serving the Horsham swimming community, we launched an appeal for funds. People and businesses have been so generous. The sponsorship agreement with Thakeham is the final piece of the jigsaw effectively safeguarding the club for five years. We hope this wonderful news will encourage more swimmers to take part and join." Atlantis Swimming Club offers training and competition for swimmers aged seven and above at the Pavilions in the Park, Horsham; Billingshurst Leisure Centre; and Steyning Leisure Centre.  An experienced team of coaches deliver over 40 hours of training per week. The club's best swimmers consistently produce national standard times.
New club sponsor Thakeham Group is no stranger to grassroots sport sponsorship. Thakeham has sponsored Horsham Rugby Club for five years and Billingshurst Cricket club too. Thakeham also sponsors the Goodwood Festival of speed family experience. Rob Boughton, CEO of Thakeham said: "Grassroots sport, health and wellbeing play an important role in any thriving community. We are proud to be The Atlantis Swimming Club's new sponsor. They are a wonderful example of how everyone benefits from the mixture of healthy competition and social fitness. "Now that the club can use leisure facilities once again, we look forward to Atlantis Swimming Club inspiring club members old and new to create many more sporting memories for years to come."
More information about the Atlantis Swimming Club and open meets like this Christmas Cracker are available on the website at www.atlantishorsham.co.uk/