CONSTRUCTION STARTS ON £8.85M PROJECT TO HELP CRAWLEY'S GROWTH
Published: 02 Aug 2021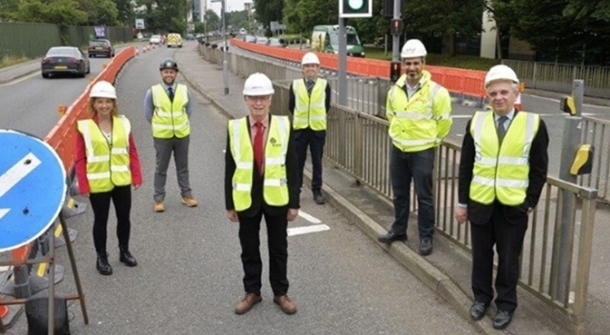 Key stakeholders visited the Eastern Gateway project to see the start of work on a scheme to improve town centre connectivity and public spaces and support development opportunities at the Town Hall, County Buildings, Telford Place and Crawley College.
Award-winning international design agency moves to Manor Royal
GLS, an award-winning international design agency with more than 30 years' experience in creating brand environments, have made Manor Royal their home.
No housing in employment areas, says council
New moves to protect Crawley's employment areas from housing are being made by Crawley Borough Council, following government changes to permitted development rights.  
District Heat Network celebrates halfway milestone
Crawley Borough Council has reached a major milestone in plans to bring cheaper, greener energy to the town centre.
Construction has begun on the new energy centre and is due for completion in February 2022.
Coast to Capital sets out action plan to help economy grow and adapt
Coast to Capital Local Enterprise Partnership (LEP) has launched an ambitious Business Plan to help rebuild the regional economy.
Enliven: Stories of Strength
Crawley Town Centre Business Improvement District (BID) and Creative Crawley are collaborating to bring the town centre to life through a range of arts and cultural events across the year with their Enliven Crawley programme.
Give council views on economic recovery
Residents, businesses and stakeholders are being asked for their views on the draft Crawley Economic Recovery Plan. The plan provides a clear vision for Crawley's future socio-economic prosperity, a clear path for recovery from the pandemic and a marker to Crawley's formidable reputation for economic productivity.
Free retail training for independent businesses
More than 100 independent retailers in Crawley can take advantage of a free training programme, thanks to a project between borough and district councils in West Sussex.
Council helps students Dare to Dream
Crawley Borough Council is supporting Love Local Jobs' Dare to Dream programme, helping hundreds of students from five schools.
Manor Royal Matters and AGM - 10 November
Manor Royal Matters brings together Manor Royal businesses, stakeholders and partners to debate those issues that make a difference to working life on Manor Royal.
This event will also include the Manor Royal BID Annual Review and AGM.