COVID-19 Vaccine Update No 28
Published: 11 Aug 2021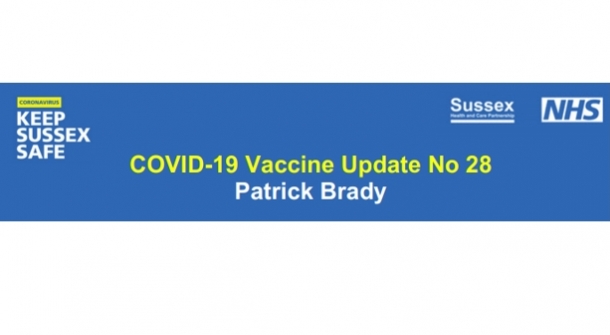 16 and 17-year-olds to be offered first dose All 16 and 17-year-olds in Sussex are set to be offered a first dose of the COVID jab within the next few weeks. After carefully considering the latest data, the Joint Committee on Vaccination and Immunisation (JCVI) have advised that healthy 16 to 17 year-olds are to be offered a first dose of Pfizer-BioNTech vaccine. Advice on when to offer the second vaccine dose will come later. While COVID-19 is typically mild or asymptomatic in most young people, it can be very unpleasant for some and for this particular age group, we expect one dose of the vaccine to provide good protection against severe illness and hospitalisation.
The JCVI expects that protection from the vaccine will probably be even higher as younger people respond better to vaccines and some will have already had the COVID-19 infection, meaning they will have an even better response to a first dose.
More than 1 million now double vaccinated
New data this week shows that 71% of everyone living in Sussex have now received both COVID-19 vaccinations. Across Sussex, more than one million people are now double jabbed and have the highest level of protection against the virus.
The NHS is calling for anyone who is due their second dose to come forward. All adults can now receive their vaccination eight weeks after their first appointment.
You can either book your appointment online, by calling 119 or by 4 going to one of the walk-in sessions that are happening every single day in our communities. Just make sure to check the vaccine type so you can have the same type of vaccine as your first.
Work is continuing this week to reach out to those who are yet to have their first vaccination. Teams are visiting communities, large employers and speaking to groups to try and further increase the number of people who have come forward for their vaccination.
NHS in Sussex reassures expectant mothers on safety of COVID-19 vaccine
The Sussex COVID-19 Vaccination Programme is working alongside local midwives to raise awareness among expectant mothers of the importance of coming forward for their COVID-19 vaccination. COVID-19 infection in pregnancy carries a significant risk of hospital admission and a higher risk of severe illness than in people who aren't pregnant.
Recent data from the UK Obstetric Surveillance Service (UKOSS) shows that pregnant women are among increasing in the numbers of hospital admissions for COVID-19. Of the pregnant women in hospital with COVID19 last week, 95% were unvaccinated.
So far, 50,000 pregnant women in England have received one dose of COVID vaccination. The data, from Public Health England (PHE), shows these were all women aged under 50 years of age, who reported that they were pregnant or could be pregnant at the time of receiving the vaccine. Of these, 20,648 women have received their second dose.
Vaccination in pregnancy is recommended as the most effective method of protection for women and their babies for severe COVID-19 illness and complications as a result.
Sarah is a Midwife working in Sussex who is helping to reassure expectant mothers about getting the vaccine. She said: "As the NHS across Sussex works to continue to encourage people to come forward for their vaccination, we know there are questions from some about whether they can have the vaccine when they are pregnant or breastfeeding. "In general there are no known risks of having the vaccine in pregnancy or while breastfeeding. Vaccination in pregnancy provides passive immunity for the baby and is boosted by the second vaccine."
If you have any questions, concerns, comments or suggestions please contact Patrick Brady – Email plb11@btinternet.com Mobile 07977 50643