COVID-19 Vaccine Update No 40
Published: 08 Dec 2021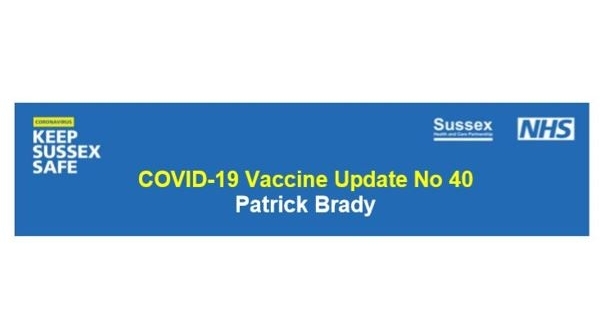 40- to 49-year-olds now eligible for a booster vaccination
The Joint Committee on Vaccination and Immunisation (JCVI) has advised that all adults aged 40 to 49 years should be offered an mRNA booster, 6 months after their second dose, irrespective of the vaccines given for the first and second doses. Recent UK and international data have provided early signs of a slight fall in the levels of protection against severe disease from the primary doses, in those who had their initial vaccines a long time ago. Booster vaccines are being offered to eligible groups to help them maintain high levels of protection against hospitalisation, severe illness or dying over the winter. The vast majority of the UK adult population has received a COVID-19 vaccine since the programme was launched in December 2020 – including 87.9% of the population who have received a first dose and 80% who have received 2 doses. JCVI has previously advised booster vaccination for all adults aged 50 years and over and those in a COVID-19 at-risk group. The offer has now been broadened to include those aged 40 to 49 years. Booster vaccination should be with either the Pfizer-BioNTech vaccine, or the Moderna vaccine, as previously advised. Both vaccines are expected to give a good level of extra protection.
16- and 17-year-olds recommended to have a second dose
The Joint Committee on Vaccination and Immunisation (JCVI) is advising that all 16 to 17 year olds who are not in an at-risk group should be offered a second dose of the Pfizer vaccine. The second vaccine dose should be given 12 weeks or more following the first vaccine dose. For those in this age group who have had COVID-19 infection, the second vaccine dose should be given 12 weeks or more following the first vaccine dose, or 12 weeks following a positive COVID-19 test result – whichever is later. This advice is in addition to the existing offer of 2 doses of vaccine to 16 to 17 year olds who are in 'at-risk' groups, as described in the Green Book. The decision to advise the second dose is based on a review of the latest evidence of the benefits of the vaccine programme, compared to the risks of any side effects. A second vaccine dose increases the level of protection and is important for extending the duration of protection. As protection from the first dose will eventually start to decline, the benefits from the second vaccine dose will become more important over time. A second dose may also offer a reduction in the risk of hospitalisation and onward transmission to vulnerable close contacts. In reports originating from outside the UK, extremely rare adverse reactions, such as myocarditis (inflammation of the heart) have been reported more frequently after the second vaccine dose compared to the first vaccine dose. However, in countries such as Canada and the UK, who have a longer interval between the first and second doses, rates following the second vaccine dose are closer to the reporting rate after the first dose. The latest available data indicate that myocarditis following vaccination usually resolves within a short time, most cases respond well to treatment and where information is available, no major complications have been identified in the medium term (months). Taking these factors into consideration, JCVI has concluded that the balance of risks and benefits supports offering a second dose of the Pfizer-BioNTech COVID-19 vaccine in persons aged 16 to 17 years who are not in an at-risk group.
Parents and carers urged to return children's consent forms
Over 30,000 12–15-year-olds have now had their COVID-19 vaccinations in Sussex schools. Parents and carers have received consent forms – please complete and return yours, even if you're declining the vaccination. The flu vaccination programme is well underway across the South East of England with thousands of parents and carers having already arranged for their children to be vaccinated. As a result of COVID-19 restrictions, influenza activity levels were extremely low globally last year. With social mixing and social contact returning towards pre-pandemic norms, it is expected that this will be the first winter that flu and COVID-19 will co-circulate. It is also anticipated that there may be a higher rate of flu infection. Infection with the flu virus has a serious impact on the health of thousands of people every winter, and getting your child vaccinated will protect them, and reduce the chance of them passing it to other family members and loved ones, so please book an appointment for your child as soon as possible. Flu symptoms can appear very quickly and include a high temperature about 38oC, an aching body, feeling exhausted, sore throat and runny nose and loss of appetite. Children may also become less active and get ear pain. Even if your child had a flu vaccination last year, the type of flu can vary each winter, so it is recommended that they have the flu vaccine each year to boost their immunity. The nasal spray is safe and effective and offers the best protection for children aged 2 to 17 years. In some instances, the flu vaccine injection can be offered if the nasal spray vaccine is not suitable. However, please speak to your child's nurse or doctor if they are aged 2 or 3 and your schools' immunisations team if your child is in primary to Year 11 at school. Parents and carers of homeschooled children should contact their local community clinic.
 
Boosters added to NHS COVID Pass for travel
Travellers who have had a booster or a third dose can now demonstrate their vaccine status through the NHS COVID Pass. The addition will enable those who have had their booster or third dose to travel to countries including Israel, Croatia and Austria who have already introduced a time limit for the COVID-19 vaccine to be valid for quarantine-free travel. Booster and third doses will not be added to the domestic COVID Pass as it is not a current requirement for individuals to receive booster doses to qualify as fully vaccinated. It will also not be necessary to show evidence of a booster for travel into England at this time. Over 13 million booster and third jabs have now been administered in the UK, providing those eligible with maximum protection as we head into winter.
The government has also accepted the advice from the independent experts at the Joint Committee on Vaccination and Immunisation (JCVI) to expand the booster programme to those aged 40 to 49, which means millions more people will be eligible to get their booster. The NHS COVID Pass enables people to demonstrate their COVID-19 status when travelling abroad or when visiting organisations who have opted to use the domestic certification process. Since its launch on 17 May, almost 20 million people have accessed the COVID Pass via the NHS App.
Booster and third doses will show up automatically in the digital COVID Pass and will be visible from now on for users in England but will not immediately be available via the COVID Pass letter service. This will be updated in due course.
 
Sussex passes 3 million COVID-19 vaccination milestone
More than 3 million first, second and booster COVID-19 vaccinations have now been delivered across Sussex. This is the result of a real collective effort from everyone involved in the programme, and is testament to the amazing commitment and dedication of our vaccination teams. This week's data shows more than 3,008,000 vaccinations have been given in total including over 428,400 booster doses. This means that 82.7% of the eligible population in Sussex have had their first dose, 76.5% have had their second dose and 68% have had their booster. The COVID-19 vaccination programme started in December last year, and since then vaccinations have been provided in hospital hubs, vaccination centres, vaccination services and mobile vaccination teams. Across Sussex there have been more than 40 vaccination sites, with thousands of people involved in the programme, from vaccinators, to administrators, to volunteers, to community partners including transport providers.At the same time, flu vaccinations are also underway at GP practices, pharmacies and some COVID-19 vaccination sites. To date, more than 450,000 people have had their flu vaccination across Sussex. If you are eligible and you have not yet received your vaccination, visit Book a coronavirus vaccination - NHS (www.nhs.uk) or call 119 to arrange your appointment. This week, the number of appointments has been significantly increased for booster vaccinations for the coming weeks through the National Booking System website and 119, and local booking systems. More than 13,000 additional appointments a week have been arranged, including 500 more in Chichester, and GP led services are adding extra days and hours to their sessions to make it as easy as possible for people to receive their booster. New appointments are being added each week, and future weeks are being opened up regularly. If you can't see a local appointment, please keep checking.