Invitation to Flexibility Matters' "How To Hybrid" Event Helping businesses make hybrid working work
Published: 30 Sep 2021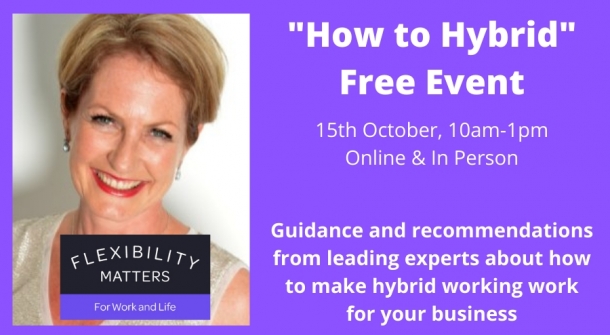 When: 15th October, 10am-1pm
Where: Online or in London EC3A
For: Anyone working in business, ideal for SMEs and HR specialists
Wondering How To Make Hybrid Working Successful? Join Flexibility Matters' free Action Learning Group "How To Hybrid" event on 15th October, 10am-1pm, online or in person.
With hybrid working now on the Government's agenda and being demanded as a right by employees, it's vital we know how to implement it successfully in our businesses.
Flexibility Matters' "How To Hybrid" event will help, with incredible speakers who are leading experts, imparting their knowledge and experience of making hybrid working work, to help us make it happen in our businesses.
What tech, people strategies and techniques should we use? Hear what works, how to implement, the possible pitfalls and the success stories.
Speakers are from NHS England, Pfizer UK, Financial Services Compensation Scheme, Wates Construction, People Matters, Equalital, Openblend, Working Families, Paddle and FlexPo.
Join online or in person, listen in and/or join the debate, this is a safe space for you to learn, and share your experiences if you wish.
Grateful thanks to sponsor David Blackburn, from the Financial Services Compensation Scheme.
A few spaces remain - book today