Littlehampton 10k set to raise over £30,000
Published: 14 Sep 2021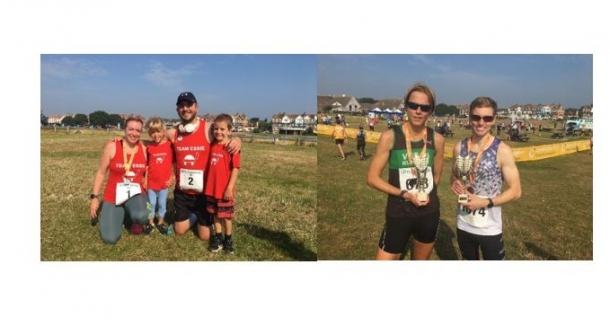 After holding the event virtually last year due to Covid-19, the Chestnut Tree House Littlehampton 10k returned on Sunday 5 September – and is set to raise over £30,000!
The charity run attracted 800 runners, from individuals and groups of friends to corporate groups and running clubs. The run kicked off at 9.30am after a few words from Chestnut Tree House trustee, Ruth Taylor.
Andrew MacCaskill, aged 34, was the first person to cross the finish line, with an incredible finish time of under 32 minutes. "This was my third time taking part in the Littlehampton 10k," said Andrew. "It's a beautiful course, great atmosphere, and there's amazing support from everyone."
The first female back was Paula Blackledge, aged 47, who got a new personal best and finished in under 42 minutes. "I love taking part in the Littlehampton 10k, it's an amazing course and Chestnut Tree House is a great charity to raise funds for," said Paula.
Among the runners, were a group forming 'Team Essie' – led by Lorna and Steve Cobbett, inspired by their triplet daughter, Essie, who sadly passed away aged 18 months after being cared for by Chestnut Tree House. 'Team Essie' created a sea of red on the day with their bespoke red t-shirts and are on track to raise £6,850 – enough to pay for a day of care at Chestnut Tree House children's hospice.
"The Littlehampton 10k is always a day of mixed emotions as I know I will have a cry. I'll always talk to Essie when running – it's the only run I don't listen to music. And I will have a heart bursting with pride," said Lorna.
"Without Chestnut Tree House giving us support and help with Essie we don't know what we would have done. It's not an exaggeration to say they changed our lives, and we are always truly grateful to this amazing charity."
Andrew Battley, Fundraiser at Chestnut Tree House said: "We would like to say a massive thank you to everyone who took part in the Littlehampton 10k. It's a very special event for us as it was our original fundraising event, which has been running as long as we have, since 2003.
"In addition to the participants, we would like to thank all the supporters and volunteers who helped by generously donating their time and services. Thank you for making a difference and helping us to care for local children and families. We couldn't do it without you."