mnAI and Grant Thornton join forces to support banks managing Government lending scheme collections risk.
Published: 09 Sep 2021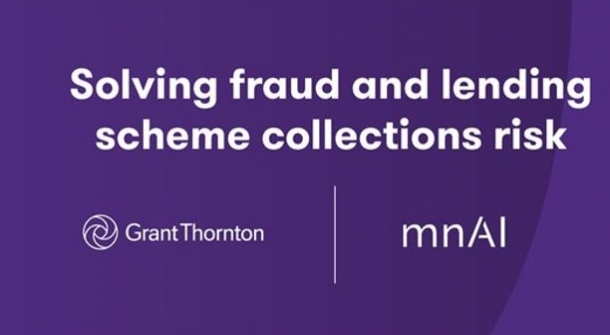 To support UK banks as they combat financial crime and fraud, and to offer a solution to these challenges, award-winning data provider, mnAI has joined forces with leading business and financial adviser Grant Thornton UK LLP. The announcement comes as new research from Experian finds that loan fraud rates rose by 40% in the second quarter of the year, the highest level reported in the last three years. 
The new offering combines Grant Thornton's expertise in data strategy, data management and analytics with proprietary data and cutting-edge technology from mnAI. The combined service will provide clients with deep and meaningful insights into UK businesses, and help reduce risk, decrease operational expenditure and foster innovation.   
According to the British Business Bank, £79.3bn of loans have been approved to 1.67 million businesses through Government lending schemes since March 2020.  A Public Accounts Committee Report (December 2020) estimated that losses from fraud and credit risk could reach somewhere between £15 billion and £26 billion.
Niresh Rajah, Managing Director, Head of Data, RegTech & Digital Assurance Practice, Financial Service Group, Grant Thornton, said:
"Last year the government introduced a number of initiatives to help businesses during COVID-19 lockdowns, most notably the Bounce Back Loan Scheme (BBLS) and Coronavirus Business Interruption Loan Scheme (CBILS). Despite this intervention, some businesses will sadly not recover, leading to an increase in defaults. Collections and recoveries require specialist skill sets, and lenders will be under pressure to meet demand, while actively preventing fraud and making sure they are treating customers fairly.
"Whilst the full exposure of the high street banks has not yet been quantified, the risk posed by those customers likely to default is significant, especially where background data on new customers (e.g., various debt exposure, longevity of relationship with the lender) is not known.  Consequently, lenders are seeking to quantify this risk, whilst developing innovative solutions to mitigate and manage their exposure. 
"Our exciting collaboration with mnAI combines our expertise and capabilities in data management and data analytics to help our clients address these challenges.  We are also working together on a number of use cases to support clients to manage risk, combat financial crime and fraud, and to help them to better understand their end customers and make insightful, data-driven decisions for revenue growth and better customer service."
John Cushing, CEO at mnAI said:
"Using billions of data points, mnAI's award-winning technology instantly provides uniquely accessible insight for research and due diligence on all unlisted companies in the UK, across sectors, companies, geographies and individuals. From financial crime to real-time gender analysis, our data and technology is helping to power the next generation of business intelligence.
"The collaboration with Grant Thornton and the opportunity to share our expertise across a range of industries and sectors is hugely exciting."