NHS workers' Virtual Trek to Australia for local charities
Published: 13 May 2021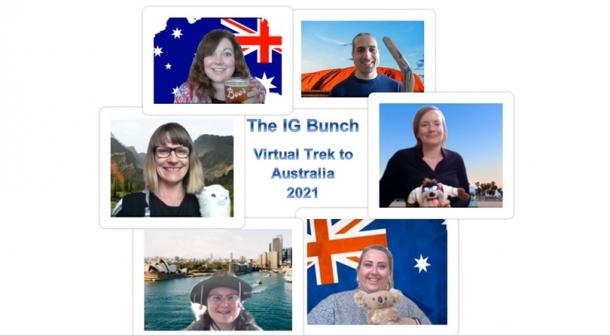 Six NHS workers are virtually trekking 10,599 miles (17,057km) from Brighton to Sydney, Australia in support of local children's hospice, Chestnut Tree House, and Sussex Community NHS Charity.
The team, who all work in Information Governance for the NHS, set themselves the challenge after a member of the team's trip to Australia was cancelled due to COVID-19.
To complete their goal of 10,599 miles before the end of 2021, the team must each complete a minimum of 34 miles per week, in whatever way they want! So far, the team has covered 3771.52 miles, walking, running, skipping, and even paddle boarding their way to Abu Dhabi. 
"We're very grateful to everyone who has donated," says Laura Watson, spokesperson for the group. "This virtual trek is encouraging us to keep active and, more importantly, giving us the opportunity to help two local charities."
"We've all been touched by everyone's support. We hope others will read about what we're doing, and the fantastic causes we're trying to help, and choose to be just as generous."
The NHS workers have already reached their £1,000 fundraising target, with nine months of the challenge remaining.
Explaining what the team's support means, Chestnut Tree House fundraiser, Grant Phillips said: "The last year has been a difficult time for everyone and, like many other charities, we have been hugely impacted by the COVID-19 pandemic. The closure of our shops and cancellation of fundraising events has meant a significant loss in income, at a time when children and families have needed us more than ever.
"We're so grateful to Laura and her colleagues for taking on this incredible challenge and choosing to support Chestnut Tree House along with Sussex Community NHS Charity. We wish them the best of luck for the remainder of their virtual journey Down Under!"
To support the team and follow their journey, please visit: https://uk.virginmoneygiving.com/Team/SCFTsInformationGovernance