Take on a magical night walk at Herstmonceux Castle
Published: 01 Nov 2021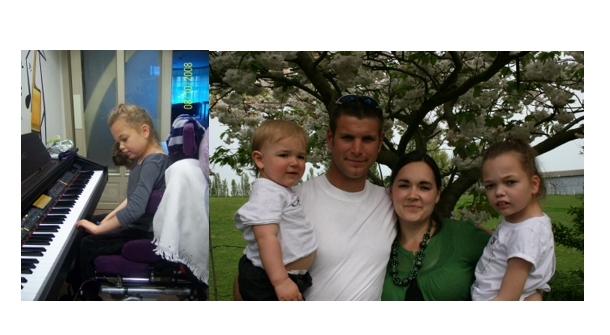 Registration is now open for Chestnut Tree House's Castle Night Trek, a challenging and magical night trek through the gardens and grounds of Herstmonceux Castle, on Saturday 14 May 2022.
Starting at sunset, participants will walk from day to night, reflecting the 24-hour nature of the care and support that Chestnut Tree House offers to local children with life-shortening conditions and their families. Families like Sophie's.
Sophie's Story
Ellie is described by her family as an incredible little girl who was full of love, and like many other young children, spent most of her time watching Tinky-Winky, Dipsy, Laa Laa and Po frolic and play in 'Teletubbyland'.
"She was obsessed with the Teletubbies, I mean – obsessed!" says Sophie, Ellie's Mum. "She was just an amazing little girl; she gave the best cuddles, and you were truly blessed if Ellie took a liking to you."
At the age of two, Ellie was diagnosed with Rett syndrome, a rare genetic disorder that affects brain development, resulting in severe complex medical needs. "We called her our secret keeper because she couldn't speak. She couldn't walk. She couldn't talk. She needed 24/7 care."
In 2008, the family were referred to their local children's hospice, Chestnut Tree House. "I'd never heard of Chestnut Tree House before, but I remember my friend telling us about it. She told me that we could self-refer, so, I got in touch with Ellie's occupational therapist who sorted it for us, and that was the first ever respite we had.
"We didn't know what to expect. You think of a hospice, and you think of poorly children and death. But from the moment we walked through those doors it was like a weight had been lifted off our shoulders. It was like a home from home."
In December 2008, a week before Christmas, Ellie fell poorly whilst staying at the hospice. She was rushed to hospital where she was diagnosed with Pneumonia, an infection in her lungs. "Ellie became very poorly very quickly. The doctors told us that there was nothing that they could do, so we took Ellie back to Chestnut Tree House to spend her final moments there".
On Christmas Day in 2008, at just nine years old, Ellie sadly passed away at Chestnut Tree House, cuddled in Sophie's arms. The family were supported fully by the hospice.
"The staff were amazing. I just broke down, I didn't want to be there, but I didn't want Ellie to be alone. I didn't know what to do. So, the care staff gave up their Christmas Day, when they were supposed to be at home with their families, to stay at the hospice so Ellie wasn't alone.
"I can't thank them enough for that. They are amazing. If you're thinking about taking part in Castle Night Trek, then please sign up. Still now, I cannot believe the love and support we had from the hospice. They deserve the same support back. So please get involved and spread the word about how wonderful the charity is!".
The hospice promises participants a challenging trek through varying terrain of ancient woodland, wildflower meadow and enchanting gardens of Herstmonceux Castle, many magical surprises along the way and a glass of bubble at the end of the trek to help them celebrate in style.
Castle Night Trek will take place on Saturday 14 May 2022 at Herstmonceux Castle. The trek is open to everyone aged 14 years and over (participants aged 14-16 years must be accompanied by an adult). For more information, and to sign up, please visit www.chestnut.org.uk/castlenighttrek