Will you follow in nurses' steps to support hospice care?
Published: 03 Dec 2021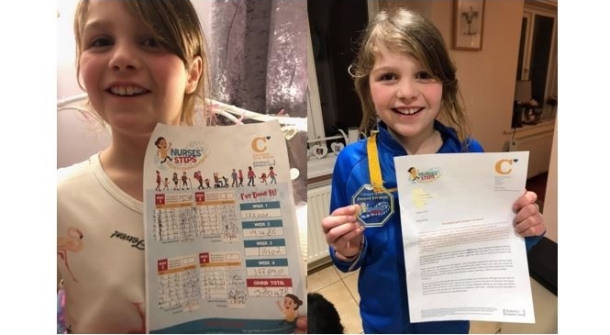 Local hospices, Chestnut Tree House and St Barnabas House are asking people to walk a month in the footsteps of a hospice nurse and raise vital funds to provide care and support for local people.
The nurses and care support workers at St Barnabas House hospice and Chestnut Tree House children's hospice rack up thousands of steps a day when looking after local adults and children, both at the hospices and out in the community.
The month-long virtual event, Nurses' Steps, asks you to commit to walking either 7,000 or 10,000 steps a day throughout February, just like the hospice nurses.
The challenge, which is new to St Barnabas House this year, is open to anyone, of all ages and abilities. Whether you're a pavement stomper, mountain hiker, countryside rambler, or casual ambler, Nurses' Steps is for everyone. Walk your way at your pace at any time or location of your choice.
Last year, 10-year-old Amelie took on the challenge for Chestnut Tree House in memory of her sisters, Heidi and Eloise.
Amelie's story
In 2010, Victoria and Lewis Ramm had their first daughter, Heidi. She was perfect, but at five weeks old she became seriously ill and was put on a life support machine. At this difficult time, Victoria and Lewis were introduced to Chestnut Tree House children's hospice where they were able to spend precious time with Heidi doing all the little things families do together like sitting in the garden, having a picnic, and bathing and dressing their little girl. Heidi died in her sleep laying between her Mum and Dad with them cuddling her.
A year later, Amelie was born and she was perfect. The doctors said that Heidi's condition must have been a one-off, so when Eloise was born two years after, in 2013, they felt positive. Sadly, history repeated itself and after five weeks, Eloise was showing the same symptoms as Heidi, and they once again found themselves at Chestnut Tree House.
The family were able to spend over three weeks together, having the opportunity to live as a family and to create special, lasting memories. For Victoria and Lewis, it was the little things the staff at Chestnut Tree House did for them like finding a pushchair so they could walk together in the gardens, providing nourishing, home-cooked meals, and enabling them to snuggle up together on the sofa to watch TV. Amelie was able to join them and ride her bike and play football and the whole family was able to swim together in the hydrotherapy pool. And when Eloise died, they stayed at the House until her funeral, spending time together and saying their goodbyes.
Speaking about why she chose to take on Nurses' Steps, 10-year-old Amelie, said, "I wanted to raise money for Chestnut Tree House because they helped us. I completed about 15-20,000 steps a day by walking around the playground at school with all my friends and taking my dog out for a run. It was great fun and I enjoyed it."
It costs just £12 to sign up, and you will receive support throughout the challenge, an exclusive pair of Chestnut Tree House shoelaces, and an exciting medal upon completion. If you want to take on the challenge as a family, two parent's/guardians can sign up with their children for just £30 and get access to exclusive activities, such as colouring sheets and scavenger hunts. Nurses' Steps is fun for all the family!
Find out more and register at www.stbh.org.uk/nurses-steps or www.chestnut.org.uk/nurses-steps