4-year-old's fancy dress fundraising challenge
Published: 11 Jan 2022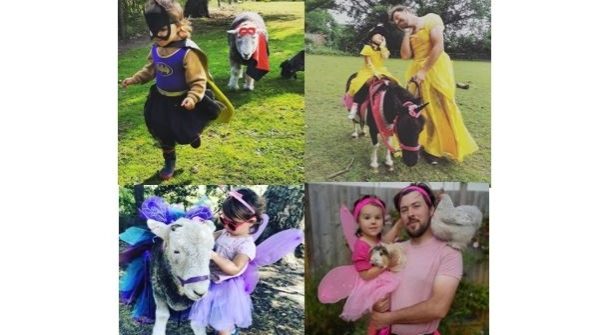 4-year-old Verity plans to walk 7,000 steps a day throughout February with her one-year-old brother, Oliver, Mum, Caroline, and Dad, Davey to raise funds for Chestnut Tree House children's hospice as part of their Nurses' Steps campaign.
As well as walking around three miles a day for the children's hospice, Verity has also set herself the challenge to wear a different fancy dress outfit on her walks every day – and even roped her Mum and Dad in too.
"We have all sorts of outfits planned, mainly princesses and fairies, but also a monkey outfit – where Dad (Davey) will be dressed up as a banana if we hit 50% of our £2,000 fundraising target – a nurse, wonder woman, and all sorts," said Mum, Caroline.
"Verity is excited to take on the challenge and raise funds for Chestnut Tree House. We have lots of different walks planned around our local area, and to keep it exciting, we'll be bringing some of our animals along too! Hugo the sheep will be joining us on a few laps around the fields, and so will our ponies and chickens."
Speaking about why they chose to fundraise for Chestnut Tree House, Caroline said: "Chestnut Tree House is an amazing cause, and Nurses' Steps is a great fundraising challenge. It's something that we can take part in as a family whilst making memories together. We're also hoping that the fancy dress and animals will bring a smile to people's faces too!"
To sponsor Verity and her family, please visit www.justgiving.com/verityslittlesteps
It costs just £12 to sign up to Nurses' Steps, or £30 for a family, and you will receive support throughout the challenge, an exclusive pair of Chestnut Tree House shoelaces, and an exciting medal upon completion. Participants will get access to exclusive activities, such as colouring sheets and scavenger hunts. Find out more and sign up at: www.chestnut.org.uk/nurses-steps