6-year-old's 31-day running challenge for local children's hospice
Published: 02 Feb 2022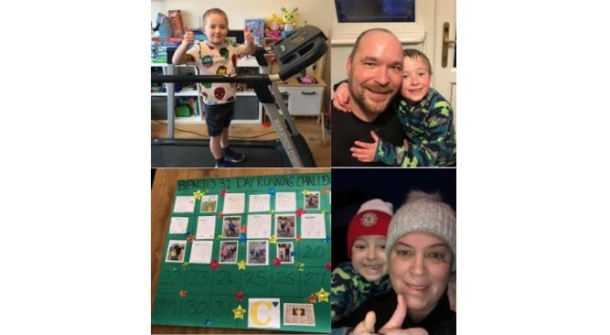 Benji Higgins from Worthing has set himself a 31-day running challenge to raise funds for local children's hospice, Chestnut Tree House.  The six-year-old told his parents, Mel and Andy, that he "wants to help children who are really poorly" and is currently running one mile every day during January to fundraise.
Benji, a Bramber Primary School student and proud beaver at the 8th Worthing Sea Scout Group, is no stranger to giving back to his local community, recently taking on a litter pick with school friends in his local area.
Mel Higgins, Benji's Mum, said: "The idea to support Chestnut Tree House is something Benji has been committed to do for a long time. As a family we take Christmas presents to children at the hospice each year which has inspired Benji over the years to want to make a real difference himself."
Joined by his mum, dad and sometimes his school friends, Benji is now over half way through his fundraising challenge and has adapted well to making it part of his daily routine. Mel adds: "The dedication Benji is showing to support Chestnut Tree House is an inspiration for us all. He's really set himself a mission to succeed and raise money with the support of the community behind him. We've got a chart at home to map his runs and we also track them on Strava to update members on our community Facebook page. So far, the support Benji's received from his school friends, family and neighbours has been fantastic."
Returning to school in January for the start of the new term, Benji has already inspired his peers to join in on the action. Headteacher, Mrs Scott, at Bramber Primary School is organising a fundraising day for pupils to run a mile in their PE kits and each donate £1 to support Chestnut Tree House.
Benji has already smashed his initial fundraising goal of £200 for Chestnut Tree House, thanks to the support from his friends and family on his JustGiving page. To support Benji on his fundraising journey, visit his JustGiving page at: www.justgiving.com/fundraising/benjihiggins31daysofrunning/