Cycling 350km in three days for my boy
Published: 12 May 2022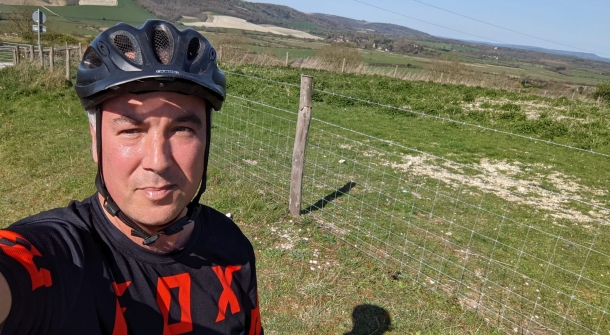 Ed Butler, 42, from Horsham, will be taking on the King Alfred's Way – cycling 350km to raise vital funds for Chestnut Tree House, the children's hospice who care for his five-year-old son, Archie.
Setting off at 6am on Sunday 17 June, Ed is giving himself just three days to cycle the 350km circular route that starts and ends in Winchester. "I'm going to set off each day at 6am, and cycle until 8pm," says Ed. "I chose to take on this challenge as I want to push myself, and also raise money for Chestnut Tree House. It's my way of giving back to them to say thank you."
In 2016, Ed's son, Archie, was born with half a heart. "We were told very early on in Archie's life that he was going to be life-limited," says Ed. "Archie had his first heart surgery at 10 days old and stayed in hospital for eight months due to his complex medical needs."
When Archie finally went home at eight months old, the family were introduced to Chestnut Tree House children's hospice for additional support. "For parents who have a child who is born with a life-limiting condition the world is often an emotionally worrying and fraught place. The thought of a hospice didn't even register in our consciousness when Archie was born."
But the family were delighted when they were told that Archie could get short-break care at the hospice. "Archie has a twin, Harry, and he also has an older brother, Ollie, so life was a bit hectic with the extra care and attention that Archie needed. So, we were relieved when we received the news that Chestnut Tree House were there to help us."
A few weeks later, the family had their first stay at the hospice. "Our first stay at Chestnut Tree House was for two nights as a family," said Ed. "It was a wonderful introduction for everyone. It gave Archie the opportunity to explore the house, whilst we had a much-needed break and peace of mind that we were so close to him in case he needed us.
"We needn't have worried as from day one Archie gave us a quick 'goodbye' and never looked back. Archie is at his happiest when he is at Chestnut Tree House, and he is always asking us how many sleeps until the next time he visits!
"Contrary to what most people believe, children's hospices are far from the sad places you may think they are. They are a beacon of light for the children who go there and perhaps more importantly, the families who get respite care or space to grieve."
Fast-forward almost six years later, and Archie has had eight heart surgeries, five of them being open heart. "Right now, Archie is in good health," says Ed. "He is the life and soul of our family. He's so happy. He's the one that smiles the most. But, he still has incredible hurdles that he will have to face in life, for example we've been told that we should expect him to have a heart and lung transplant when he's a teenager.
"We don't know what the future holds for Archie," continues Ed. "It may well be the case that, like many families before us, my wife, Fiona, and I will be placing a stone with his name in Chestnut's beautiful garden of remembrance."
To sponsor Ed on his King Alfred's Way cycle challenge, please visit www.justgiving.com/ed4cth 
To find out more about Chestnut Tree House, please visit www.chestnut.org.uk