Opportunities, news and events from the University of Brighton - nov
Published: 28 Nov 2022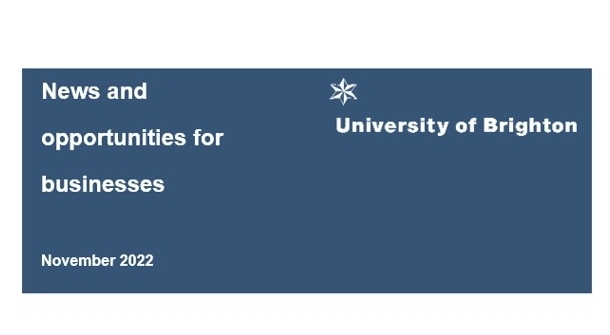 Here are some of this month's highlights for our regional businesses and beyond - including some of the ways we can provide skills and innovation support. 
If you would like to know about how the University of Brighton can work with your business - get in touch at enterprise@brighton.ac.uk
Safe pair of hands
Semi-professional goalkeeper Faye Baker, shares her Teacher Apprenticeship experience, swapping shot-stopping in the Women' Championship for honing classroom skills as part of the University's Postgraduate Teacher Apprenticeship
Sustainable architecture pioneer speaks at COP27
University of Brighton's sustainable construction expert Duncan Baker-Brown led the COP27 debate on how to decarbonise global construction.
University employability week 
Sponsored by Focus Group, 15 below and SEO London, the Careers Fair welcomed over 100 employers and 2,592 students at the American Express Community Stadium. 
Work with us
STEPS to Innovation 
Turn promising ideas into tangible products and services in ways that are responsible, responsive and ultimately successful with our brand new programme. 
A series of five hands-on, interactive and challenging workshops will offer a deeper understanding of market and community analysis, how to effectively conduct pilots, effect trials, alpha and beta testing as well as moving beyond collusions of mediocrity, making bold decisions on whether to launch or let go...!
Programme starts in January 2023 - completely free for eligible businesses. 
Develop yourself and your business
A mini MBA style development course for business leaders, Help to Grow is taught by experts in their field at the University of Brighton.
Degree apprenticeships are a win for all
Employers say they improve products, productivity and service. Hear from a Managing Director on how this route has benefited their company and industry.
Upcoming events
Enhancing customer experiences with immersive experiences
1 December, 10am-1pm, Worthing
6 December, 10am-12pm, Online
Artificial Intelligence (AI) for small businesses and organisations
7 December, 10am-12pm, Online (Zoom) 
Future-proofing your business - embracing sustainability and rediscovering your purpose
7 December, 2-5pm, Huxley Building, University of Brighton
Creative Pause! – lived menopause experiences
7 December, 6-7.30pm, The Bevy Pub, Brighton
Understanding inequalities in healthcare and the hidden populations
8 December, 9.30-11.30am, Online (Zoom)
Enhancing your customer offer: water, wellbeing and the great outdoors
9 December, 10am-1pm, Littlehampton
Business Model Canvas workshop
15 December, 9.30am-12pm, Online
Meaningful encounters with technology in the home
16 December, 10am-12pm, Online (Zoom)