Opportunities, news and events from the University of Brighton
Published: 04 Oct 2022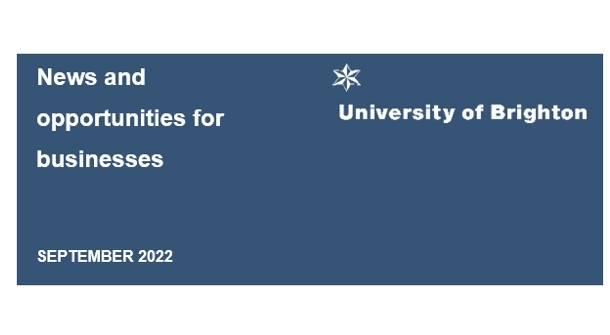 Here are some of this month's highlights for our regional businesses and beyond - including some of the ways we can provide skills and innovation support.
If you would like to know more about how the University of Brighton could work with your business - contact the team at enterprise@brighton.ac.uk.
Shortlisted twice in knowledge transfer awards
The University's Knowledge Transfer Partnership (KTP) team has been shortlisted for the Best KTP Support Team Award, while one of its KTP Associates has been shortlisted for the Future Leader Award for her contribution to a two-year KTP project working with Hastings-based company Judge Sampson Ltd.
Microplastic marine pollution research highlighted on BBC1's The One Show
Research into marine pollution finds evidence of tiny shards of fibreglass shed from ageing or discarded boats being taken up by marine organisms – including those we eat.
Brighton student nurses leading global push for more sustainable healthcare
The University joins global initiative called the Planetary Health Report Card (PHRC) to put sustainability and the impact of climate change at the heart of nurse training and practice.
Work with us
Build resilience and maximise opportunities
Access cutting-edge research and the latest industry insights, tailored around sector-specific themes, at no cost to your business with our RISE Horizon programme.
FREE for SMEs, CICs, and Micro businesses in the Sussex area.
Make your product a reality
Get hands-on - design, create and test prototypes in advanced workshops at Plus X Brighton. One morning a week for 7 weeks in October/November. 
Fully funded programme - no membership or fee required.
Boost your business
Government-funded course to help you:
Develop a bespoke business growth plan
Get 1:1 mentoring
3. Network with local businesses 
Courses in Worthing, Hastings and Brighton.
Upcoming events
RISE Bitesize: Introduction to Intellectual Property
5 October, 10.30-11-30am, Online (Zoom)
Brains at The Bevy talk: Naked and Unashamed?
5 October, 6-7.30pm at The Bevy Pub, Brighton
RISE Bitesize: Starting a new business? The essential tips for the new start-up
11 October, 9.30-11am, at Crawley Library, Crawley
11 October, 10am-12pm, Online (Zoom)
RISE: Innovations in Tourism and Hospitality
13 October, 10am-2pm at Fishbourne Roman Palace, near Chichester
13 October, 10.30-11.30am, Online (Zoom)
RISE Bitesize: Social Enterprises and franchising business models
18 October, 2-2.45pm, Online (Zoom)
Are we facing another mass extinction event?
2 November, 6-7.30pm at The Bevy Pub, Brighton
Sales development for start ups
8 November, 10am-12pm, Online (Zoom)