The Big Surrey and Sussex Thank You - SASH Charity
Published: 03 Aug 2022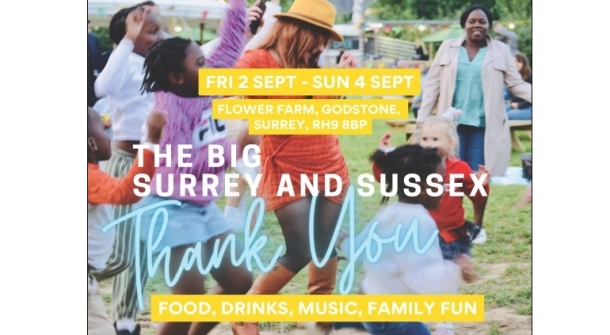 To say thank you to everyone who worked in health and care through the pandemic and as we recover, SASH Charity and the NHS in Surrey and Sussex invites you to the Big Surrey and Sussex Thank You. 
This three day, family friendly event (2-4 September 2022) is open to everyone in health and care in Surrey and Sussex, and your families and friends. It builds on the success of SASH Charity's partnership with Flower Farm in Godstone, and is now open to everyone in health and care across the area! So whether you're a GP receptionist in Brighton, a doctor in Guildford, a healthcare assistant in Horsham, or you work in a care home in Reigate. This is for you. 
Thanks to the generous support of donors to SASH Charity, event sponsors, and the incredible team at Flower Farm, ticket costs are as low as possible. Each member of staff can also bring as many family, friends, and children as you like (please ensure you've purchased a ticket for everyone in advance). You must arrive as a group, with the healthcare worker with their work ID (and with everybody's tickets) to gain admission. 
Details of the event programme will be released on this page and social media (@sashcharity) in the coming weeks.
Tickets are now on sale!
We have a limited number of sponsorship and exhibition opportunities available for businesses contact us for details.
If you work in health care and would like to attend, but cannot afford a ticket, we have a limited number of free bursary places available, so please email us at sash.thankyou@nhs.net
The Big Surrey and Sussex Thank You :: Surrey and Sussex Healthcare NHS Trust (sashcharity.org)