Christmas Parties 2023! Hotel du Vin & Malmaison Brighton!
Published: 09 Aug 2023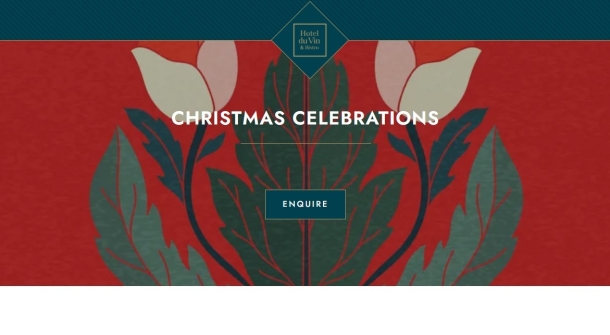 Whilst the weather is awful…. Why not brighten up your spirits with a touch of early Christmas cheer! At Hotel du Vin and Malmaison in Brighton, we're thrilled to share a sneak peek of our exciting Christmas party offerings. While the weather may be gloomy, we're here to lift your spirits and get you pumped for the festive season ahead!
With a range of beautifully decorated venues, delectable menus, and bespoke packages, we have something special in store for everyone. Whether you're planning an intimate gathering with close friends or a grand celebration for your team, we've got you covered.
From festive decorations that evoke the enchanting spirit of Christmas to entertainment that will keep you partying all night long, our parties are designed to create memories that last a lifetime.
So, why wait? Embrace the early holiday joy and let us help you plan the perfect Christmas party. Get in touch with our dedicated events team, and we'll ensure that your celebration at Hotel du Vin and Malmaison in Brighton is nothing short of extraordinary.
https://www.hotelduvin.com/christmas/
https://www.malmaison.com/christmas/
Get ready to make this Christmas the best one yet!