Mayo Wynne Baxter celebrates two years of support for Heads On charity
Published: 24 May 2023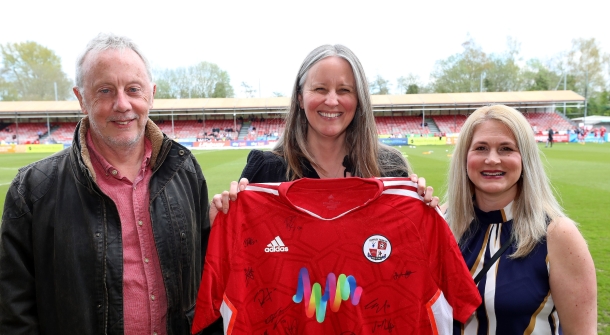 Leading regional law firm Mayo Wynne Baxter is celebrating a successful two-year collaboration with Sussex Partnership NHS Foundation Trust charity Heads On.
The firm raised an impressive £3,793 for the charity which supports people with mental health problems to help them feel understood, stay active and remain dynamic members of their communities.
Dean Orgill, chief executive partner at Mayo Wynne Baxter, said: "Working in partnership with Heads On, we have been delighted to take part in so many fun activities, including sponsored walks and bake sales, Hats On for Heads On, runs and raffles. We even gave away tickets for Michael Bublé live in Sussex!
"Supporting this local charity, which helps our community in Sussex as everyone's mental health suffered during the pandemic, has been incredibly important to us and we're proud to have made a difference."
The funding has been used for essential equipment, resources and gifts for in-patients as the need for mental health support is increasing faster than ever before.
Rachael Duke, charity director at Heads On, said: "Thank you so much to the team at Mayo Wynne Baxter for their fantastic support over the last two years.
"Their brilliant staff have gone far beyond traditional fundraising, raising vital awareness of mental health and providing essential introductions to the law on key topics faced by people with mental health problems through skills-based volunteering.
"As our local communities continue to navigate the challenges we all face following the pandemic and the cost-of-living crisis, support from local businesses such as Mayo Wynne Baxter shows what is possible when we work together to champion mental health and address some of the inequalities people with mental health problems have faced for far too long."
The successful collaboration was celebrated with a trip to Crawley Town Football Club to watch a match and reflect on the past two years working together.  
Rachael added: "We could not have been more excited to celebrate the culmination of our partnership at Crawley Town FC's last home game of the season, a club with a fantastic history of supporting positive mental health. We were delighted to see the Reds stay up and thrilled to award man of the match - a fantastic way to end our charity partnership."
For more information, please visit: www.mayowynnebaxter.co.uk/