Midnight named best small consultancy in the south east
Published: 14 Jun 2023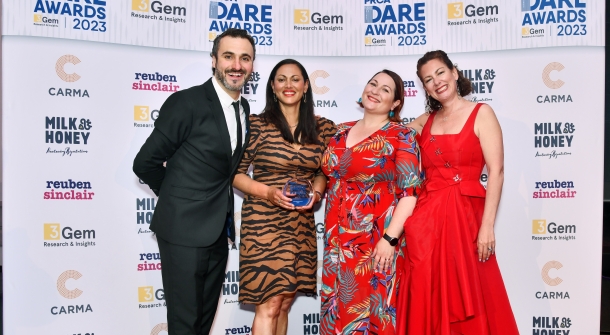 Midnight, a leading B2B PR agency based in Brighton, has taken home the Small Consultancy of the Year award at the PRCA Dare Awards 2023 for the whole of the south east.
The agency has enjoyed an impressive five years of growth since its MBO in 2018, resulting in a 30% increase in fee income in 2022. With ambitious five-year targets set to support growth, the agency has recently invested in a new office in Hove, taken on two new employees as well as senior consultants to support the leadership team and is about to launch a new brand and website.
Joint Managing Director Flo Powell said: "Winning this award represents a real milestone for us since our MBO. We're incredibly proud of the growth we've achieved and extremely grateful for all the hard work from our whole team, the support from our partners and consultants and of course from our wonderful clients!
"We've set ourselves some very ambitious targets and hit them all in the first half of this year, so 2023 is set to be another record-breaker for our agency."
Based in Brighton but operating on a national basis, Midnight's B2B client roster includes professional services firms, companies in the built environment and workplace industries as well as some large regional campaigns for the likes of London Gatwick and Newhaven Enterprise Zone.
This recent award win comes on the heels of Midnight being named in the PR Week Top 150 lists for agencies outside London, national B2B agencies and in the 'bubbling under' category.
As well as supporting its clients, the agency is laser-focused on the development of its team. Senior Account Manager Samantha Clark commented: "In terms of professional training, Midnight has been exemplary. This is the best education in PR I've had since my agency days began."
The PRCA DARE Awards seek out and reward the very best PR and communications professionals across the UK, decided by a panel of highly respected industry experts across eight regions.
For more information, please visit www.midnight.co.uk.