SHW announces this year's team promotions
Published: 05 Jun 2023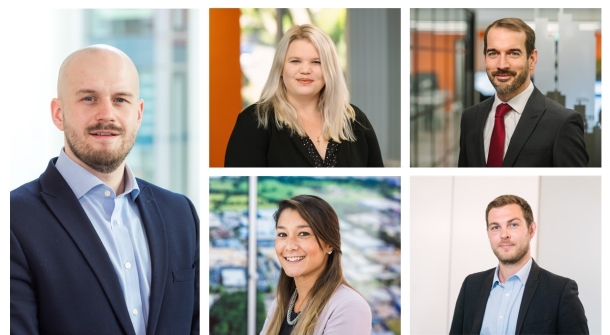 SHW has announced seven promotions within its UK team as of 1st June 2023.
Matthew Missenden and James Bryant have been promoted to Director, Carlie Edgerton and Harry Beyer now take the title of Associate and Natalie Radcliffe has been promoted to Senior Property Manager. This follows the promotions of Gemma Quinn and Duncan Bannister to Partner which was announced in April this year.
James Bryant qualified as a Chartered Surveyor in 2017 after studying an undergraduate in Real Estate at Birmingham City University. Since joining SHW, James has been involved in the sale and letting of numerous properties across Sussex, acting on behalf of SHW's new and existing clients.
Tim Hardwicke, Partner and Head of Agency at SHW, says: "James continues to provide excellent advice and service to clients, building on the already excellent reputation of SHW. He is a well-respected member of the agency team and continues to deliver, landing some of the largest lettings in Sussex in recent years. His promotion to Director is very well deserved."
Ryan Carson, SHW's Partner and Head Building Consultancy, says of Matthew Missenden's promotion to Director: "Since joining SHW, Matthew has continued to provide strong leadership of the London BCD team and has recruited additional graduates to support their growing workload.  Recently, Matthew has successfully completed several Building Safety Fund applications to facilitate fire related cladding projects starting on site."
On Harry Beyer's appointment to Associate, Ryan adds: "From the moment he joined the Crawley office, Harry became a steadfast point of contact for all BCD enquiries.  Harry has recently completed several pre-acquisition surveys for Envisage Dental to assist with their growing portfolio, as well as providing dilapidations and project management services for Columbia Threadneedle."
Carlie Edgerton, who has been promoted from Senior Surveyor to Associate, is an RICS Registered Valuer providing valuation reports for a number of purposes including secured lending, Charities Act, GP Partnerships and probates. She is also involved in negotiating on acquisitions, rent reviews and lease renewals.
Richard Bull, Partner and Head of Professional Services at SHW, says: "As well as dealing with retail, office and industrial space, Carlie has a number of specialisms including Education facilities, dentist sand medical centres. She is a committee member for the Healthcare Property Network, a Member of the Primary Care Premises Forum and also represents SHW as a business guide and mentor to local students who are facing challenges in their school and private lives."
Last, but certainly not least, Natalie Radcliffe takes the new title of Senior Property Manager. Adrian Dack, SHW's Partner and Head of Property Management, says: "Since joining SHW in December 2020, Natalie has developed in her role and has become a key member of SHW's Private Rented Sector team. Natalie has increased the size of her managed portfolio and now manages around 300 units in Eastbourne and along the South Coast to Bournemouth ensuring compliance and a high level of service across the portfolio. We look forward to supporting Natalie as she continues her career development with SHW."
Over the last two and a half years, Natalie has worked with clients and SHW's Building Surveyors to develop strategies to increase the value of the clients' assets through investment, reconfiguration and refurbishment which has led to greater desirability and higher rents achieved across the portfolio.
In June 2021 Natalie passed her Propertymark Level 3 qualifications and became a fully qualified ARLA agent and has continued to develop her knowledge within the Private Rented Sector as well as establishing good working relationships with a number of key clients.
Russell Markham, Managing Partner of SHW, says: "I am delighted to announce these promotions.  Matthew, James, Harry, Carlie and Natalie have all worked extremely hard enabling progression within the firm. These promotions reflect the passion each of them embodies to go the extra mile for their team and for our clients."