SHW launches further industrial space at Billingshurst Business Park, following two new lettings
Published: 16 Feb 2023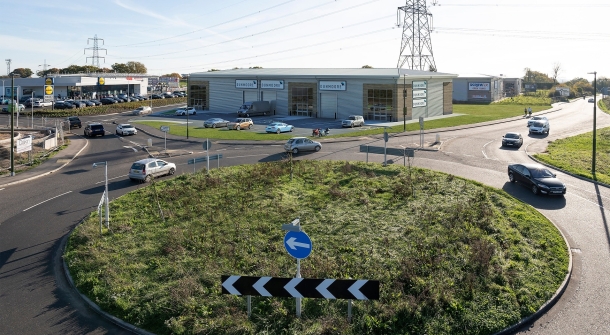 SHW, on behalf of real estate and development company Dunmoore, is bringing three new units, totalling 11,500 sq ft, to the market at Billingshurst Enterprise Park.
This follows the recent lettings at Dumoore's 21-acre commercial hub in Billingshurst to Pig's Ears Beer and International Diplomatic Supplies.
The independent drinks distribution company has taken a new 10-year lease for 12,647 sq ft of warehouse and trade counter space in the second phase of development, alongside International Diplomatic Supplies – the world's only dedicated diplomatic supply company - who have also signed a 10-year lease for a 9,331 sq ft warehouse and office facility.
Construction of the scheme's second phase – which will provide 250,000 sq ft of industrial and business space accommodation – began at the start of 2022 after Dunmoore signed a forward-funding agreement with CBRE Investment Management for the development of a Lidl Supermarket.
Lidl opened at the end of 2022 and sits alongside a petrol filling station, let to Rontec, and a Costa drive-thru which will complete in the first quarter of 2023.
Jeff Hobby, Chief Executive of Dunmoore, said: "We are delighted to welcome both Pig's Ears Beer and International Diplomatic Supplies to Billingshurst. Both are exactly the types of local, growing businesses we are looking to attract to the development. Having disposed of the trade park last year, our intention has now moved towards the second phase of development."
SHW, DTRE and Ogle Property are joint lettings agents on behalf of Dunmoore at Billingshurst.
David Martin, Partner at SHW, says: "There is a real lack of quality space in the local area, and, despite the uncertain economic climate, there are still good levels of occupier demand. We are now in the position to formally launch three new units in the commercial hub. These will be marketed either to let or our clients would sell the plot, and we have already seen good interest in these."
Situated approximately seven miles to the South West of Horsham, Billingshurst is an affluent commuter town which benefits from a growing population and quick links to both the South Coast and southern home counties