Ten Reigate School of Art students selected to exhibit their work at Origins Creatives in London this weekend
Published: 02 Aug 2023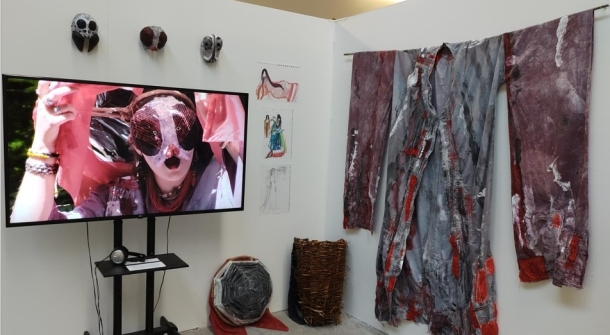 Ten Reigate School of Art students selected by University of the Arts London to exhibit at Origins Creatives 2023   
Eve Stuart – 'Perfectly Imperfect costume'                                  Julie Shipton – 'Theatre of Dreams and Despair'
We are delighted to announce that ten students from the Reigate School of Art, part of Orbital South Colleges, have been selected to exhibit their work at Origins Creatives 2023, taking place at the Truman Brewery in London from Friday 21 – Sunday 23 July.
Our students' work, spanning a range of disciplines and course levels, caught the attention of UAL Awarding Body's curator amongst 400 submissions from FE students nationwide.
Please see details of the students and their work overleaf.
Origins Creatives is organised by UAL Awarding Body and provides art lovers, critics, and industry professionals from the creative sector the chance to discover original creative talent from across the UK and celebrate students' creativity and hard work.
The free exhibition showcases work from some of the UK's most talented students in FE institutions studying across the UAL subject areas of Art and Design, Fashion Business and Retail, Creative Media, Music Performance and Production and Performing Arts.
This year, Origins Creatives will be an in-person exhibition at The Truman Brewery in Shoreditch. The exhibition will be open to the public from the 21 – 23 July, alongside an online showcase.2The exhibition will showcase selected work created by students from Levels 1, 2, 3 and 4 across all subject areas. You can expect to see a diverse range of painting, photography, drawing, sculpture, fashion and more.
Details of RSA exhibitors' work:
Music Level 3
https://www.youtube.com/watch?v=zyWevmyGI6M

Music Level 2
Reuben Frost – 'FMP – Track 1'
Film Level 3
Creative Media Level 2
UAL Foundation Diploma Art & Design Level 4
Julie Shipton – 'Theatre of Dreams and Despair' (textile)
Eve Stuart – 'Perfectly Imperfect costume' (textile) 

Jo Fenwick, Director of Learning at Reigate School of Art, commented: "I am absolutely delighted that the talents and hard work of these students have been recognised and rewarded by the opportunity to exhibit their final year artwork in this year's Origins Creatives 2023." 

Exhibition opening times:
Friday 21 July, 10.30-5pm // Saturday 22 July, 10.30am-5pm // Sunday 23 July, 11am-3pm
Address:
G4 + G5, The Truman Brewery, Ely's Yard, Shoreditch, E1 6QP
Book free tickets: https://www.eventbrite.co.uk/e/origins-creatives-2023-tickets-600311787717