Updates and opportunities from the RISE team - June 2023
Published: 08 Jun 2023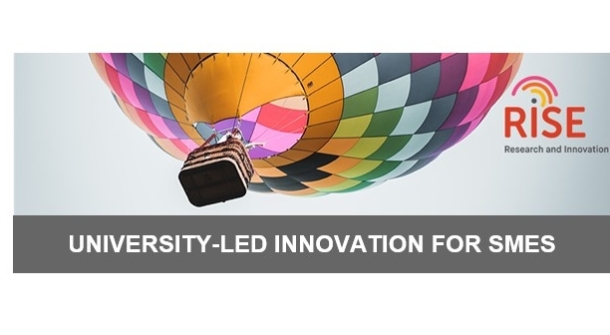 We know that innovation is the driving force behind progress and growth, and with the relentless pace of change, it's more important than ever to review existing practises, stay informed about the latest developments, and be open to change.
Over the last 18 months, we've worked with over 200 small to medium-sized enterprises (SMEs) from a diverse range of sectors, including tech, healthcare, manufacturing, and many more. We've provided over 2,400 hours of support, developed six programmes, delivered 63 workshops and masterclasses, and worked closely with some of you on 24 bespoke R&D projects.
A huge thank you to the funders that have made this project possible - the European Regional Development Fund (ERDF), West Sussex County Council and the West Sussex District and Borough Councils.
We'd also like to thank Kent Surrey Sussex Academic Health Science Network, Experience West Sussex and METALL for their support developing and delivering some of the RISE programmes.
Lastly, thank you to the RISE members - we've thoroughly enjoyed working with you as you've developed your ideas and addressed significant challenges. We've been truly inspired by your commitment, creativity and drive to push forwards!
As the RISE project draws to an end, we hope that many of you find yourself in a stronger position to tackle challenges, apply new ideas, and be better equipped to implement the knowledge and skills that you've gained.
We'd love to continue these conversations, further exploring opportunities to work together, so please do stay in touch!
In 18 months, together we have ... 
+ created 15 new jobs
+ supported the development of 40 new products or services
+ worked on 24 bespoke R&D projects
+ stimulated more than £400,000 of R&D investment to take your ideas forwards
with ... 
+ 81 of you joining Zoe on the Horizons programme
+ 23 taking part in the STEPS to Innovation programme with Lorraine and Paul Levy from the University of Brighton
+ 28 had a 121 with Mark at Innovation Clinics in Crawley, Worthing and Brighton
+ and 52 Innovation Audits were completed. 
Take a look at some of the headline stats and hear from some of the businesses that have taken part, in our RISE Impact booklet.
The RISE project film
Hear from project partners, university researchers and RISE members - as they talk about their experiences, the importance of innovation, collaboration and partnership, and the impact the project has had on them.
A huge thank you to everyone that agreed to be interviewed - we had over 20 hours of footage in the end, too much to squeeze into this film, but some great stories that we hope to be able to share soon.
RISE project celebration event
On the 18 May we held a celebration event at Ricardo's Innovation Centre - guests included project partners, business networks, university researchers and RISE businesses.
Guests were the first to see the RISE film and hear heartfelt experiences from two RISE members, Helen from Own Your Own Self and David from Springboard Media.
"RISE for me has been about connection and collaboration – I've made some fantastic relationships with people which will long continue after RISE."
Helen Cowper, Own Your Own Self
"Coming to home to Sussex and realising that there are opportunities like RISE, along with the other projects that the universities have run, has in no exaggeration been completely life-changing and transformative."
David Powell, Springboard Media
Thank you to everyone that attended, and a huge thank you to Jacob's Bagels for supplying free bagel goody bags! 
OPPORTUNITIES
Access funding to develop ideas and grow your business
Join this free one day event either online or in person and be inspired by business innovators who have received support to supercharge their ideas across West Sussex and beyond.
Afternoon masterclass sessions include:
+ How to write a grant application – Innovate UK Edge
+ Using the innovation canvas to explore a business opportunity – Lorraine Bell, University of Brighton
+ Power-up your ideas with expert knowledge: Knowledge Transfer Partnerships, Shona Campbell, Innovate UK KTN
Network and business support partners
 
A special thank you to the amazing support of our network and business support partners for the promotion of RISE – do keep an eye out on their events!????
>> Business & IP Centre Sussex
>> Burgess Hill Business Park Association
>> East Grinstead Business Association
>> Haywards Heath Business Association