Your August business and tax updates
Published: 11 Sep 2023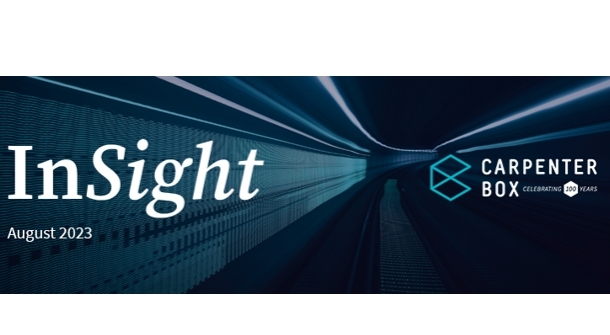 Welcome to our August newsletter and the end of the summer. I hope you had an enjoyable long weekend.
There are changes afoot in the form of the Economic Crime and Corporate Transparency Bill, which all corporate entities should be aware of. Amendments were suggested to the Bill in the House of Lords before the summer recess, and it is expected to go to the Commons for final considerations early next week.
If approved, implementation could be imminent. We are unable to advise fully on the practical timeline for some elements coming through, but they will have wide-ranging implications to some degree for all businesses, their officers and their owners. Below, we cover some of the key highlights of the Bill, so please take a look. As soon as we have further information, we will be in touch with our clients.
If you're operating internationally, we have some information regarding Transfer Pricing Rules and Withholding Tax which should be useful. A bit closer to home, we are pleased to once again support the Adur and Worthing Business Awards (open to businesses in the local area). Entries are open until Friday 15th September, so there is still plenty of time to enter!
As you may know, we have been celebrating our 100th birthday this year, with the aim of raising £50,000 for our dedicated Carpenter Box Charitable Foundation. In October, we're hosting a Charity Ball for our business community as a finale to the celebrations. If you'd like to join us on the day, go ahead and book your tickets.
Finally, Carpenter Box continues to grow and invest in our staff. We have a number of vacancies available across our offices, so if you're looking for a new opportunity please do get in touch.
I hope you enjoy this month's newsletter.
Kind regards,
Alan
Alan Edwards
Managing Partner
The Economic Crime and Corporate Transparency Bill: A Comprehensive Overview
In the dynamic landscape of corporate governance and financial regulations, staying informed about impending changes is vital.

The Economic Crime and Corporate Transparency Bill seeks to bolster transparency, combat economic crime, and tighten regulations surrounding corporate entities.

Driven by the need to curb corporate fraud and hold organisations accountable for their actions, the UK government's reform is a response to the growing urgency, amplified by events like the war in Ukraine.

Final amendments were made to the bill during the third reading in the House of Lords before the summer recess, and it is expected to go to the Commons for consideration of those amendments on 4th September 2023 before reaching Royal Assent.

In this blog, we delve into the core elements of this transformative bill that's set to reshape the way businesses operate.
Carpenter Box Charity Ball
Date: Thursday 19th October 2023
Time: 6.00-11.30pm
Venue: Worthing Pavilion Theatre

Join the team at Carpenter Box to celebrate our 100th birthday!

Your ticket includes a sparkling drinks reception, delicious three course meal, wine as well as our famous Carpenter Box Quiz with host Chris Coopey!

Dress code is 1920's celebrating our 100 years, or black tie/evening attire.

All proceeds raised go directly to charity through our Carpenter Box Charitable Foundation.
Understanding Transfer Pricing Rules in the UK
Transfer pricing is a concept used by tax authorities to allocate profits across different countries.

In the United Kingdom, transfer pricing rules are governed by HMRC. These guidelines are important for businesses to understand because they affect how much tax you pay on your operating income.

Let's take a closer look at the UK's transfer pricing regulations.
What is Withholding Tax? 
When transacting across different countries, you are likely to make deductions to meet the tax requirements of the originating country.

Withholding tax is a tax levied by overseas governments on income received by non-residents, such as:
Business profits
Dividends
Interest
Capital gains
Navigating the rates and requirements can be a minefield but fortunately, the UK has a wide range of double tax treaties which can ease this burden.
What are KPIs and why should they be important to my organisation?
Ever wondered how successful businesses stay on track and consistently meet their goals?

The secret lies in Key Performance Indicators (KPIs). Monitoring business performance is crucial to the success of any organisation, and KPIs are powerful tools for measuring progress towards business goals.

KPIs help organisations to focus on the metrics that matter most, identify areas for improvement, and make data-driven decisions.
Adur & Worthing Business Awards 2023
The Adur & Worthing Business Awards (AWBAs) are back and open for entry!

Closing date for entries: Friday 15th September
Award ceremony: Friday 10th November

Whether large or small, start-up or firmly established, businesses are invited to enter these awards, designed to recognise successes and achievements across various industries. The awards, now in their 15th year, seek entries from a cross-section of businesses that can demonstrate exceptional growth, innovation or an outstanding contribution to the community in which they operate.

Awards are a fantastic way to demonstrate and celebrate success in your business. Whether you are a start-up, SME or a large international corporation there is an award for everyone – from recognising individual achievement, sector excellence, business growth or exceptional customer service.
Carpenter Box are once again delighted to be attending the event as sponsors of the Manufacturing and Engineering category. We have been proud supporters of the Awards since its inception back in 2008.
Empowering Local Students to Dare to Dream
Carpenter Box recently partnered with Durrington High School to bring forth an empowering employability programme called Dare to Dream.

This initiative, developed in collaboration with the Love Local Jobs Foundation and Adur and Worthing Councils, aimed to equip local students with the skills, confidence, and mindset necessary to thrive in the professional world.

Through a series of workshops and inspiring assemblies, Carpenter Box mentors provided invaluable guidance on self-awareness, resilience, teamwork, and employability to over 300 year 10 pupils.
July fundraising from the Mental Health Champions
As part of their centenary festivities, each working group at Carpenter Box has a designated month to orchestrate events that will help generate funds for the Carpenter Box Charitable Foundation.

The month of July was embraced by the Mental Health Champions, an impassioned and empathetic community embedded within Carpenter Box. Let's explore their commendable fundraising endeavour!
WineGB Awards 2023: Trophy winners revealed!
A ceremony took place at Exton Park in Hampshire to announce and celebrate the trophy winners of the WineGB Awards 2023.

Judges evaluated the wines at Exton Park Vineyard, Hampshire from 5th to 8th June. There were 346 wines entered with 48 Gold medals, 145 Silver medals and 120 Bronze medals awarded.

We are very proud to have been involved with the event, sponsoring the Best Still Red Pinot Noir Trophy, which was won by Sandridge Barton Pinot Noir 2020
Events and Resources
Resources:
For a full listing of our resources and information sheets, visit our 
resources page
 on the Carpenter Box website.  
Key dates and deadlines
01 September 2023
Corporation tax payment due for year end 30 November 2022, for those companies not liable to pay their liability by instalments.
New fuel rates come into force.
07 September 2023
Due date for July VAT returns unless exempted.
19 September 2023
If you pay by cheque through the post, pay PAYE, class 1 NICs, student loan deductions and deductions from payments to subcontractors for the month up to the 5th of this month.
Construction Industry Scheme: monthly return due for period up to 5th of previous month.
22 September 2023
If paying electronically, pay PAYE, class 1 NICs, student loan deductions and deductions from payments to subcontractors for the month up to the 5th of this month.
30 September 2023
Filing deadline for corporation tax return self-assessment form CT600 for period ended 30 September 2022 to be submitted to HMRC.
Deadline for filing your annual accounts is 9 months after your company's financial year ends.
End of CT61 quarterly period.