Rail Service Updates
Published: 31 Aug 2016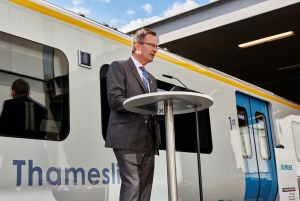 Hopefully you've found our Rail Service updates to be of use - here's another!
Hopefully you've found our Rail Service updates to be of use - here's another from Southern Rail:
~~~~~~~~~~~~~~~~~~~~
As you'll know, in July we introduced a temporary revised weekday timetable to reduce the impact on passengers of ad hoc cancellations caused by unprecedented levels of train crew sickness. From Monday 5 September, we will restore 119 of the 325 services that currently remain cancelled which will mean we are providing 91% of our normal services. The changes will restore all inner London services, almost all London Bridge peak trains and an enhanced service to our West London Line to Milton Keynes Central.
The changes starting next week are the beginning of the process of restoring the full timetable. For the time being, the coast/mainline services will continue to operate with reduced services but we intend to bring these remaining services back into the timetable incrementally over the coming weeks, as staff sickness absence reduces. We are therefore continuing to operate the revised timetable to provide the most reliable and predictable service we can for our passengers.
Charles Horton, GTR's Chief Executive, said:
"We know how difficult life has been for our passengers recently and we are sincerely sorry. Our aim has been to bring back as much of the timetable as quickly as we could and for several weeks we've had 5 September as our target to begin the reinstatement of trains. We're pleased that we can restore a large chunk of our train timetable for our passengers on this date but we will not be satisfied until the full timetable is running, and running in a punctual way people can rely on.
"But with another RMT strike called for next week, passengers will be dismayed and angry, as we are, that the union has called yet further cynically-orchestrated action to try and scupper this improved service, and cause maximum disruption, damage and delay in the very week when many people go back to work and back to school after the summer break. But we will not be thwarted in our determination to give passengers their trains back. In the face of an intransigent RMT leadership, we're doing all we can to get our passengers back on track.
"The updated timetable will allow us to run a more comprehensive rush hour service with virtually a full peak service at London Bridge and 95% of peak train capacity at Victoria. We will continue to add services incrementally and we are aiming at restoring the full timetable in the coming weeks.
"However, while we'll do all we can to restore the services, we are faced with an unparalleled wave of strikes, unjustified industrial disputes and abnormal levels of train crew sickness. We are also part of a live railway network which can result, however much we don't want them, in unexpected incidents which do cause short notice cancellations and disruption. This is the start of the journey to restore the full timetable. It will take time to complete, but passengers can be assured it is now underway."
Information on services during the RMT strike action on Wednesday and Thursday, 7 and 8 September will be announced in due course.
The services to be restored on 5 September are:
All inner-London "metro" service
Guildford – Leatherhead
Sutton – Streatham via Wimbledon
London Bridge – Beckenham Junction
On the West London Line 26 services will now operate, some as far as Milton Keynes, where, currently, just eight services have been running between Clapham and Watford Junction only
Details of services to operate on the West London Line:
05.25 Balham to Milton Keynes Arrive 06.55
07.01 Milton Keynes to East Croydon Arrive 09.04
09.10 East Croydon to Milton Keynes Arrive 11.02
11.13 Milton Keynes to East Croydon Arrive 13.01
13.10 East Croydon to Milton Keynes Arrive 15.00
15.13 Milton Keynes to East Croydon Arrive 17.01
17.10 East Croydon to Milton Keynes Arrive 19.00
19.15 Milton Keynes to Clapham Junction Arrive 20.33
20.39 Clapham Junction to Milton Keynes Arrive 22.05
22.11 Milton Keynes to East Croydon Arrive 23.59
06.20 Clapham Junction to Watford Junction Arrive 06.57
07.25 Watford Junction to Clapham Junction Arrive 08.09
08.14 Clapham Junction to Shepherds Bush Arrive 08.29
08.34 Shepherds Bush to Clapham Junction Arrive 08.46
08.50 Clapham Junction to Shepherds Bush Arrive 09.03
09.07 Shepherds Bush to Clapham Junction Arrive 09.19
09.24 Clapham Junction to Shepherds Bush Arrive 09.37
07.30 Coulsdon Town to Watford Junction Arrive 09.01
09.15 Watford Junction to Clapham Junction Arrive 09.57
08.40 East Croydon to Shepherds Bush Arrive 09.18
09.33 Shepherds Bush to Clapham Junction Arrive 09.45
16.34 Kensington Olympia to Clapham Junction Arrive 16.43
16.49 Clapham Junction to Kensington Olympia Arrive 16.59
17.04 Kensington Olympia to Clapham Junction Arrive 17.13
17.20 Clapham Junction to Shepherds Bush Arrive 17.32
1747 Shepherds Bush to Purley Arrive 18.41