B&CE's 75th Community Project - The Big Build Needs You!
Published: 12 Apr 2017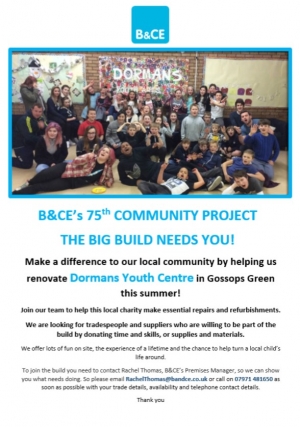 Make a difference to our local community by helping us renovate Dormans Youth Centrein Gossops Green this summer!
Make a difference to our local community by helping us renovate Dormans Youth Centrein Gossops Green this summer!
Join our team to help this local charity make essential repairs and refurbishments.
We are looking for tradespeople and suppliers who are willing to be part of the build by donating time and skills, or supplies and materials.
We offer lots of fun on site, the experience of a lifetime and the chance to help turn a local child's life around.
To join the build you need to contact Rachel Thomas, B&CE's Premises Manager, so we can show you what needs doing. So please email RachelThomas@bandce.co.uk or call on 07971 481650 as soon as possible with your trade details, availability and telephone contact details.
Thank you
KEY AREAS IN NEED OF SUPPORT
Community Kitchen
Dormans offer disadvantaged children, and children with learning difficulties, the chance to learn how to cook and work in a kitchen environment. They would love to be able to redesign the space to improve efficiency, install a new domestic fitted kitchen, upgrade the appliances, improve storage facilities and meet a higher standard of health and safety/hygiene. Longer term, with improved catering facilities, they would like to be able to offer more support to the local community.
Art Studio
Dormans is all about allowing children to express their creativity, and they would love to improve their small Art Studio. Their wish is to decorate in funkier colours, install proper shelving to display work, have two new lower butler style sinks installed, hot water, a drying space for artwork and put vision panels into the doors for safeguarding.
Games Room & Store
Dormans are fortunate enough to have had a couple of pool tables and a table tennis table donated to them, which is great for their evening youth clubs and are in constant use. These are kept in a large open plan area at the moment, but it would be ideal if a store room could be created to house this equipment to help keep the room looking tidy and prevent damage. The room would ideally have a toughened window so that it can be used as a games room for the table football or table tennis.
Upgraded Replacement Casual Furniture
Dormans hosts a pre-school during the day, as well as evening youth clubs and many other activities aimed at young disadvantaged children. Their seating areas are very old and have been repaired and recovered many times. It would be great if we are able to supply them with some new soft seating for their two key, open plan activity areas.
WC Facilities Upgrade
It would be fantastic to do some small upgrades and improvements to the WC facilities at Dormans. They are all in need of decoration, updated janitorial equipment, improved tiling and mirrors and ideally a built in changing station for the pre-school/nursery children to use.
Ceiling and Lighting
The ceiling at Dormans is in need of repair. Ideally a new ceiling grid would be installed, but replacement ceiling tiles throughout would make a huge difference. We would also like to replace the old lights for new LED panels to really freshen and brighten up the main communal spaces.
Carpet and Office/Meeting Room Furniture
Dormans have two small offices, both of which are in need of decoration, new carpet and where possible improved furniture and shelving/storage. Ideally they would like to turn the larger office into a meeting room, so some basic meeting room furniture would be really helpful.
Music Studio
One of the main attractions for the young people who frequent Dormans is their small but well equipped music studio. Music is great therapy for kids and plays a big part in many of their lives. The studio is in need of decoration and a bit of organisation/improved storage, however the main problem is that the room is not sound-proofed. This means it can only be used at very limited times so it does not disturb other activities taking place. It would be fantastic to achieve this for Dormans so that they can really make good use of this much sought after facility.
External Improvements
The external areas of the youth centre are really in need of some TLC and brightening up! It would be great to make the approach more appealing with some colour, notice boards and proper signage. Drainage is also an issue and they often have water lapping at the front door!
IN A NUTSHELL....
If you can help with any of the above, or the list below, I would love to hear from you:
Decorating or decorating materials
Furniture
Plumbing or plumbing supplies
Builders or building materials
Carpenters
Carpets
Kitchen equipment
Shelving
Notice Boards
Signage/Graphics
Curtain or blinds
General DIY skills/Drainage work
Cleaners