Be the Change Gatwick/Crawley: Make a Difference… Get Involved.
Published: 18 Aug 2017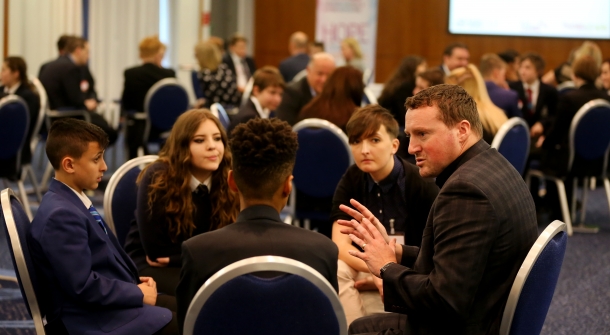 For those of you who have not already heard about it - Be the Change is a ground breaking 6 event programme bringing together young people and inspirational business volunteers and helping to build their hope, happiness, confidence, communication and employability skills. The action takes place over 3-4 months and comprises of three large scale conferences, two 1:1 sessions and a workplace visit. Be the Change helps open young people's eyes to the world of work and the wealth of possibilities and career opportunities in their hometown and beyond.
Getting involved with Be the Change provides businesses with a unique opportunity to engage with their future workforce, building awareness of their employer brand amongst young people in their local area, whilst at the same time providing an innovative way of engaging staff internally through fulfilling and meaningful personal and professional development opportunities.
Over the past three years we have run Be the Change activity in Brighton, Coastal West Sussex, Hastings, Bexhill, Croydon, Crawley/Gatwick and Leicester and none of it would have been possible without our incredible partners, fellow businesses and organisations in each of the areas we have worked.
To date, Be the Change has worked with more than 60 organisations across the public and private sectors and more than 1000 students from over 46 schools… and 100% of all participating business volunteers, teachers and students surveyed said they would recommend Be the Change to others.
Following the success of our programme in Gatwick/Crawley last year we are delighted to confirm that there is a tremendous amount of support and encouragement from schools and businesses in the area for the activity to continue into a second year. We're currently working hard to plan activity for the coming academic year 2017-18 and so far, confirmed sponsors for the Gatwick/Crawley programme include Crawley Borough Council and Gatwick Airport.We are looking for support from a further 3-4 businesses so please do get in touch if you would like to hear more about how you and your business could get involved: BetheChange@LoveLocalJobs.com
Visit http://promotions.lovelocaljobs.com/bethechange/ to find out more and watch a brief video giving an overview of the programme and the impact it has, alongside feedback from organisations such as Hastings Direct, NatWest and Gatwick Airport, who have already hugely benefited from getting involved.
97% OF GATWICK STUDENTS SURVEYED AGREED OR STRONGLY AGREED THAT THEY FELT MORE POSITIVE ABOUT THEIR FUTURE AFTER BE THE CHANGE