Brave the fire for St Catherine's Hospice Firewalk
Published: 06 Nov 2017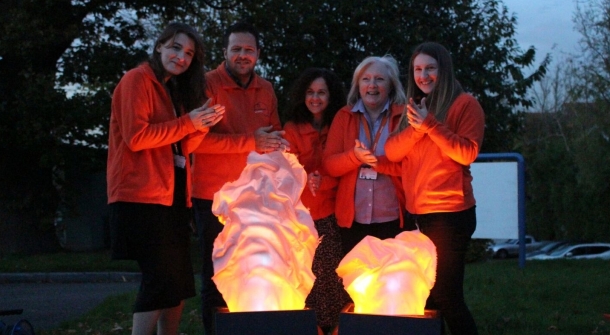 St Catherine's Hospice is heating up Crawley town centre with a brand new Firewalk! Now, the local hospice is calling on brave soles to come forward and face the flames to raise funds for local terminally ill people and their family and friends.
St Catherine's is looking for 100 fearless fundraisers to put their bravery to the ultimate test as they walk barefoot across 15 foot of red hot embers. Taking place on Friday 2 March 2018 at 8pm, in Crawley's historic High Street, the thrilling Firewalk is the first of its kind for the local hospice but it's not for the faint hearted!
Held in partnership with UK Firewalk, no previous experience is needed as UK Firewalk's expert staff will share the secrets of successful firewalking with everyone who takes part before they face the flames. 
Alongside the Firewalk, there's also a brick walk for under 18's who are keen to tackle a tough challenge to raise money for their local hospice. Anyone who has stepped on a stray brick might argue that this challenge takes more guts than the Firewalk itself!
Michaela Clements, Events Fundraiser at St Catherine's said "We're really excited to bring such a great, new challenge to Crawley and we hope lots of people will come out to brave the Firewalk and help us make the night a sizzling success! It's a brilliant thing to be able to say you've hot footed across fire for your local hospice, and we can't wait to cheer all our amazing firewalkers on at what's shaping up to be the hottest event of the year!"
Think you can take the heat? Then don't delay, get your space today! Places are limited to 100 so get in early. Fire up and register before Thursday 18 January to quality for an early bird registration of £20. After 18 January it's £25 to register. To take part you'll also need to raise a minimum of £150 sponsorship. Registration for the under 18's brick walk is £10 and brave brick walkers are asked to try and raise £50 each.
Sign up online at: www.stch.org.uk/firewalk, call St Catherine's events team on 01293 447355 or email events@stch.org.uk