Chillin' at Dame Vera Lynn Children's Charity!
Published: 17 Jul 2017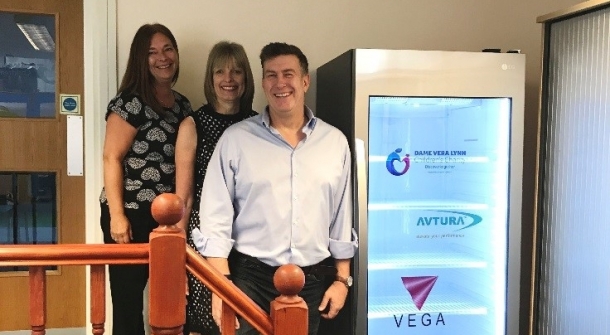 14th July 2017, Sussex  The Dame Vera Lynn Children's Charity (DVLCC) were thrilled to receive a call from VEGA Europe to advise that they were the beneficiary of an LG Transparent Fridge for their specialist children's centre in Cuckfield, Sussex, donated by another local company, Avtura Ltd.
VEGA Europe, an Audio-visual and Video Communications Systems Integrator based in Crawley, West Sussex ran a Technology event at LG Electronics UK offices in Weybridge, showcasing technologies available for businesses and retail outlets.  The fortunate attendees were surprised to learn that there was an opportunity for a transparent cooler, as a thank you for attending the event. 
Christopher Meeking, CEO from Avtura Limited commented.  "As an established and innovative provider of software management solutions and consultancy for ground handling operations, we attended the VEGA event as it offered us the opportunity to see the LG technology displayed in one place and get to talk to the R&D and Product team."
Meeking continued "When we heard we had been selected to have the LG transparent fridge, I immediately thought of placing it into the Dame Vera Lynn Children's Charity centre, an early intervention service to children under the age of 5 with cerebral palsy and other motor learning difficulties.  DVLCC aims to give children a place where they can learn and thrive in a warm, supportive setting that understands their unique journey.  This is not unlike Avtura; we are a niche business that provides a unique service built on a clear understanding and knowledge of the aviation sector."
The LG Cooler plays digital content through its transparent mode on the door front.  Pilar Cloud, Executive Manager of DVLCC said "The fridge will be a great asset to the centre to run videos of our service and advertise our events to families and visitors to our Centre.  Our families have been putting the cooler to good use already to store snacks and drinks for their children whilst in session."
Denise Green, Marketing Manager at VEGA Europe said "VEGA had participated in the A2B (Arundel to Brighton) walk in 2016 for DVLCC, and have committed to supporting the charity for the next year – as well as entering another team for the 2017 walk. What a coincidence that Chris also supported the charity and wanted to donate the fridge to them. It has turned out to be a fantastic partnership between us all."
"We are extremely grateful to have the support of both VEGA Europe and Avtura Ltd" Cloud added, "and we look forward to our continued relationship which has brought a new dynamism to our Charity."