Gatwick Airport staff go head-to-head in St Catherine's Hospice shop challenge
Published: 26 Sep 2017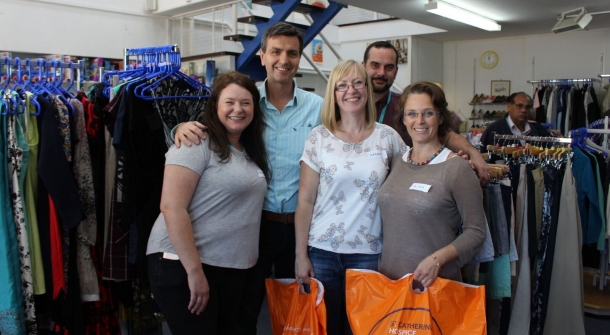 65 staff members from Gatwick Airport swapped their regular roles for retail as part of a volunteering challenge in St Catherine's Hospice charity shops.
Split into teams and deployed to St Catherine's 16 shops across Sussex and Surrey, including the Crawley shop*, teams were kept busy with a series of tasks and challenges. Going head-to-head against their colleagues, Gatwick staff got stuck into sorting donations, steaming and pricing items, and decorating shop windows with stock to showcase the autumn season.
As well as taking on these crucial volunteering tasks, teams also raced against one another to find five items with a link to Gatwick Airport, and there was a prize for the best outfit for a team member to wear to the pub.
Gatwick Airport Community Engagement Manager, Melanie Wrightson, said: "We had a fantastic day volunteering in St Catherine's shops and they definitely kept us busy! It was a brilliant chance for us to give back to our local charity partner, which does so much to help terminally ill people in the wider Gatwick area, whilst indulging in some friendly competition with our colleagues. St Catherine's staff and volunteers do a fantastic job promoting the hospice and get through a huge amount of donations each day. We were pleased to be able to help them out and would like to thank them for their hospitality and good spirit!"
Wayne Stepney, Retail Development Manager at St Catherine's, said: "We were thrilled to have so many Gatwick Airport staff volunteer with us today. They helped with a range of tasks including setting us up some beautiful window displays that really showcase the quality of our shop's stock. We rely on volunteers to help serve our local community and I hope this highlights just how easy it is to volunteer and get involved with your local St Catherine's shop."
Inspired by Gatwick staff? To find out more about volunteering at one of St Catherine's charity shops or the furniture warehouse please visit www.stch.org.uk or call the volunteering team on:  01293 447351.